3/4

3/4

2.5/4

1.5/4

3/4

3/4

3.5/4

3/4

3/4

3/4

3/4

3/4

3.5/4

3/4

3/4

3/4

3/4

3/4

3/4

3/4

3.5/4

3/4

3/4

3/4

3/4

Next 25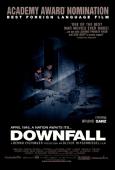 Downfall ( Untergang, Der )
In a war as such there are no civilians.
3.5/4 stars
The final days Of Nazi Germany and its maniacal leader Adolf Hitler are stunningly told in this unforgettable movie.
Even 60 years on from events, there is still a lot of sensitivity regarding the portrayal of Hitler in German cinema and this film earns its fair share of controversy.
Blending matter of fact, almost banal everyday occurrences with disturbing and shocking images, Downfall creates a claustrophobic induced aura that hooks the viewer in.
Neither condemning nor (heaven forbid) glorifying Hitler, this is a movie, which tells a story about the end of one of modern history's darkest hours. It also offers a bleak and chilling reminder of the destructiveness and chaos of human life.