3/4

3/4

2.5/4

1.5/4

3/4

3/4

3.5/4

3/4

3/4

3/4

3/4

3/4

3.5/4

3/4

3/4

3/4

3/4

3/4

3/4

3/4

3.5/4

3/4

3/4

3/4

3/4

Next 25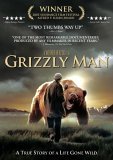 Grizzly Man
I will die for these animals.
3.5/4 stars
Truly remarkable documentary about one mans fascination with wild bears and his ultimate death at the hands of the creatures he loved and cared for.
A nature film which explores the tract of human behaviour rather than the unpredictable characteristics of the Wild Alaskan grizzly bears.
Painstakingly put together by director Werner Herzog with revealing interviews and footage that comes across as sad, funny and emotionally charged.
Wonderfully challenging and a mesmerizingly brilliant exercise in filmmaking.