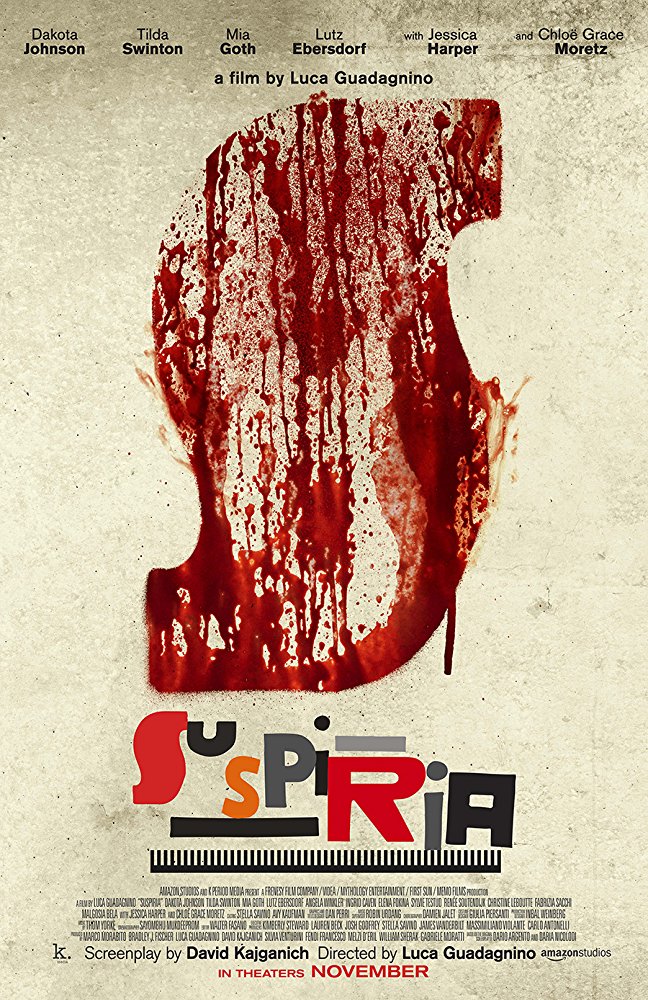 Suspiria (2018)
Arthouse Horror That Is a Dark, Decadent Treat
Chris Kavan - wrote on 01/20/19
Remakes are tricky and director Luca Guadagnino took on a daunting task of adapting was is arguably the best film from Italian giallo and horror icon Dario Argento. But rather than trying to compete with Argento's vision, Guadagnino made it his own. The film keeps the same setting, but shifts the timeline and has a style all its own.

The plot follows a similar patter as the original, Ohio native Susie Bannion (Dakota Johnson) arrives at the prestigious Markos Tanz Company, run by the brilliant Madame Blanc (Tilda Swinton) and quickly proves she has a raw, natural talent for the school's interpretive ballet style. But as we learn in the film's opening where a clearly unhinged young woman, Patricia (Chloë Grace Moretz) is meeting with a Dr. Josef Klemperer (billed as one Lutz Ebersdorf, but has also been revealed to be Tilda Swinton) - this academy holds a dark secret. Shortly after arriving, another dancer, Olga (Elena Fokina) goes missing and Susie's friend Sara (Mia Goth) soon develops suspicions. This is to say nothing about the dark dreams and sudden talents Susie develops.

The school is filled with a variety of older women played by some screen veterans, including Angela Winkler, Alek Wek, Ingrid Caven, Sylvie Testud, Jessica Batut, Renée Soutendijk and more. They even cast original Suspiria actress Jessica Harper in a short, but important role as Anke, wife of Dr. Klemperer in a fantastic sequence. Some of the best parts of the film are when these actresses are just lurking in the background with a look in their eyes or conversing and just breaking out in the most hideous laughter. It's unnerving and effective.

The German setting remains intact, but far from Argento's colorful palette, this version is muted as rain and snow dominate and we are in the midst of the conflict between East and West Germany, a country still trying to come to terms with its role in WWII and against the background of a terrorist group holding hostages on a plane. The film also features a nearly-total female cast - so it also features plenty of themes on things like motherhood, sexuality and control.

The film is not afraid to shy away from the violent nature of the original. From twisted bodies to a violent orgy of a finale - the film goes to some dark places. The film also features some amazing choreography, and Johnson, who reportedly trained for two years to portray a world-class ballerina, shines in this role. I mainly know the actress from the Fifty Shades trilogy - so seeing her take on what looks like a very challenging role is much more refreshing. And Swinton yet again shows remarkable aptitude for transformation - I would have never thought the doctor role was her if I hadn't read about it - and her presence as Madame Blanc is profound.

Suspiria is not for the casual horror fan - this is very much an arthouse kind of film and, at over 2 1/2 hours, is not going to play with everyone's taste. But the way the film is shot, the characters, the dance - it comes together and forms a glorious, horrifying result. It's hard to top the influence of the original, but this version of Suspiria stands on its own.