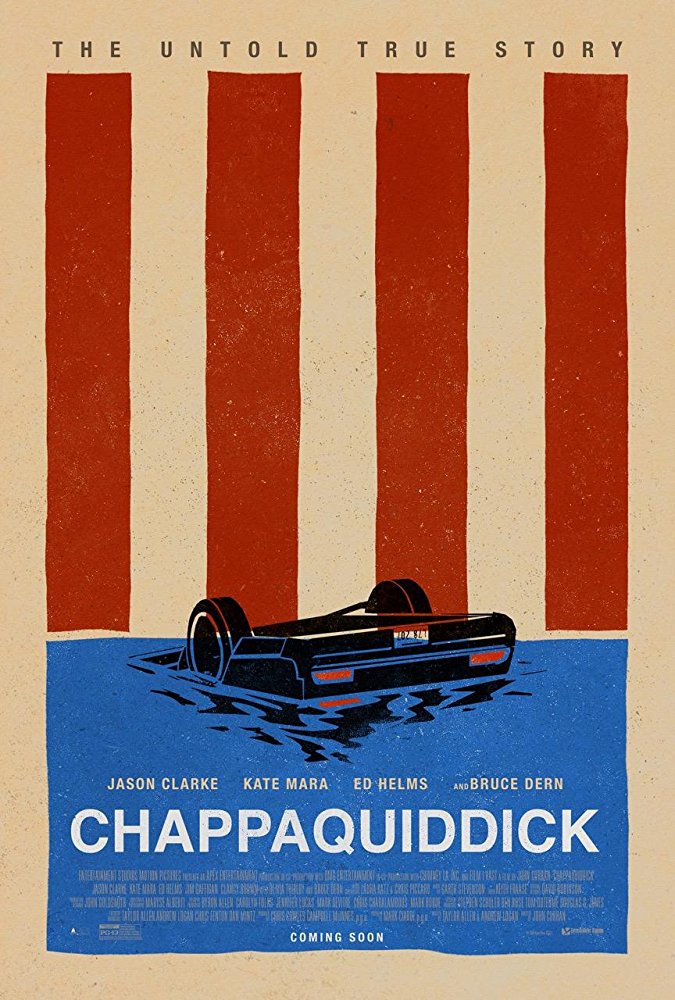 Chappaquiddick
Death and Politics
Chris Kavan - wrote on 07/05/18
The Kennedy curse seems poised to strike again when the last surviving son of Joseph Kennedy, Ted, is involved in a car accident that claims the life of young campaign strategist, Mary Jo Kopechne. While Ted quickly involves family friend Joseph Gargan and Paul Markham, he also scrambles between owning up to the accident while salvaging his political career.

Chappaquiddick is somewhat dry but it also doesn't sugarcoat the issue. Jason Clarke plays Ted Kennedy on a thin line between unsympathetic villain yet a victim of his own family name. Following the assassination of brother John F. Kennedy and murder of Robert Kennedy, he is the last scion, but gets no respect from his ailing father - an exceptional Bruce Dern who says more in a stern expression than words could ever match. While his actions are questionable and self-serving, you can't help but feel some sympathy for the absolute pressure that has been put upon him due to his family's legacy.

Kate Mara, sadly, isn't given a lot to do as Kopechne. It seems she has cornered the market on young, female roles that come to an untimely end (see also House of Cards and American Horror Story). Ed Helms fares much better as Gargan, who finds himself caught in the middle of the upheaval, trying to steer things right but never fully realizing how much Kennedy's career matters. There are a lot of great supporting roles too - including Jim Gaffigan in a non-comedic role, John Fiore, Clancy Brown, Victor Warren and Taylor Nichols.

The best part is watching what goes on behind the scenes as Kennedy's crack team works to repair the damage and save Ted's burgeoning political career even as the mistakes pile up (from badly-worded statements to an ill-advised neck brace). Plus it's even better set against the backdrop of the first lunar landing - as winning the space race was a major accomplishment of the Kennedy presidency. As I said, the film can tend to be a big dry - as biographies so often tend to be - but it manages to set the mood of the era just right.

A mix of politics, crime, legacy and consequences - Chappaquiddick contains a little something for everyone and is worth seeking out.