2.5/4

3.5/4

2.5/4

2.5/4

3/4

2.5/4

4/4

3/4

2.5/4

2.5/4

3/4

3.5/4

2.5/4

3/4

2.5/4

3/4

3.5/4

3/4

3/4

2.5/4

3/4

3.5/4

2.5/4

3/4

2.5/4

Next 25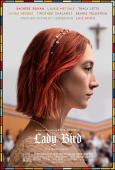 Lady Bird
Lady Bird Soars
3/4 stars
It's hard to fathom that with my typical movie of choice, you know, Star Wars, Marvel, whatever B-grade horror I can dig up on Netflix, that an emotional mother-daughter, young female drama would resonate with me. Yet Greta Gerwig clearly came up with a story near and dear to her heart and found the perfect lead in the talented Saoirse Ronan. While this kind of film is not normally in my wheelhouse, it touches on so many subjects that even I was moved and can see why it stood so high during awards season.

Lady Bird is the name (self-given) by Christine McPherson (Ronan), a senior that is adrift, rebellious, always fighting with her well-meaning, hard-working but somewhat condescending mother (Laurie Metcalf). The Sacramento teen wants nothing more than to leave California behind and go to a East Coast college, even though it would strain the families' budget. It doesn't help that she has trouble fitting in at her Catholic high school, but she finds her niche in drama, even if she's relegated to the chorus instead of the lead. Like any teenager, she has a best friend, Julie (Beanie Feldstein), is jealous of the pretty, rich girl (Odeya Rush) and develops feelings for a fellow drama member (Lucas Hedges) as well as the too-cool hipster-in-training (Timothée Chalamet).

Coming-of-age is thrown about so much in movies - but Lady Bird, though it takes place during the course of a single year, features a lot of growing up. Lady Bird touches on a lot of subjects, everything from personal relationships, homosexuality, ageism, economic stability and even mortality - there is a lot going on here. You also have to remember this is set in 2002 - and some of the subject matter would have been a bigger bombshell back then. But for all the heavy drama going on, Lady Bird has a lot of heart, plenty of funny moments and some standout characters. Ronan proves herself one of the best actresses of this generation - I've been impressed by plenty of her choices, but Lady Bird is a standout even among her best.

Another surprise was Chalamet - his oh-so-cool attitude, self-rolling cigarettes, distrust of cell phones and general disinterest is absolutely a pre-cursor to being a hipster - and he nails the role, even if you hate him for it. That is the sign of a good actor right here. Metcalf also more than holds her own as Lady Bird's driven mother while Tracy Letts is subdued but no less important as her father. Jordan Rodrigues and Marielle Scott round out the main cast as Lady Bird's bother and his girlfriend - a pair of goth-lite college-age young adults also trying to find their way in the world.

Lady Bird is a film that anyone with dreams, ambition and hope should watch - young, old, male, female - it's a worthy film that touches on a lot of subjects and treats each one with the respect it deserves.