2/4

2/4

3/4

3.5/4

3/4

3/4

3.5/4

2.5/4

2.5/4

3.5/4

3/4

2.5/4

3/4

2/4

2.5/4

3.5/4

3/4

2/4

3/4

2/4

2.5/4

2/4

3/4

3/4

3.5/4

Prev 25 | Next 25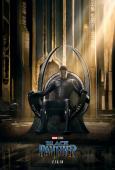 Black Panther (2018)
Wakanda Forever Indeed
3.5/4 stars
Disney and Marvel have done a lot of things right in their epic MCU franchise. From delivering more obscure heroes and rocketing them to instant fame (Guardians of the Galaxy), creating a trippy sci-fi fantasy (Dr. Strange) even delivering a well-deserved comedy (Thor: Ragnarok) - this series has come a long way since Iron Man. That being said, Black Panther is, thus far, the most important film in this ever-expanding cannon. There aren't a lot of black superheroes out there - and Black Panther isn't just a celebration of this oft-overlooked comic book segment - but a celebration of African heritage, while still delivering a Marvel-worthy story audiences have come to expect.

Credit director Ryan Coogler for bringing this vision to life. From the cinematography, cast, music, locations - everything comes together in perfect harmony. Chadwick Boseman is once again, T'Challa, who returns home to Wakanda following the death of this father T'Chaka (John Kani). That home is Wakanda, which, to the outside world, is a third-world country of farmers, but is in reality a technologically-advanced wonder thanks to its location atop a seemingly endless supply of vibranium, delivered eons ago by a meteor strike. After an impromptu reunion with his ex-girlfriend Nakia (Lupita Nyong'o), who he wants present during his coronation, we finally get a full look at his home country.

It is said several times during the film how beautiful Wakanda truly is - and the detail and care that went into designing the city and the surrounding country is truly impressive. From magnetically-driven high-speed trains to a vast waterfall - it is among the most visually stunning locations out of all the Marvel films. The beauty here is matched by the talent that has been assembled. Standouts include Danai Gurira as the no-nonsense and tough-as-nails leader of the Dora Milaje, the all-female Wakandan special forces, Letitia Wright as the scene-stealing princess Shuri and Forest Whitaker as the zen-like Zuri. But the cast is full of talent all around: Angela Bassett as T'Challa's mother, Daniel Kaluuya as a beast-taming friend, Winston Duke as leader of the outcast mountain tribe, Martin Freeman as the taciturn CIA agent Everett K. Ross and Andy Serkis as the repugnant Ulysses Klaue.

While at first I didn't think that Michael B. Jordan's Erik Killmonger was that effective of a villain - the more I thought about it, the more I realized that is actually the point. Killmonger isn't so much a villain as more of an evil reflection of T'Challa. He does what he thinks is right - and while some of his actions do indeed seem extreme, he only wants what is best for Wakanda, even if he leans too far in a "even if it means destroying vast parts of the world" in the process.

The film delves into some deeper ideas. Wakanda, with their knowledge and technology, has long been cut off from the world - to protect themselves and keeping their resources from falling into the wrong hands. But at the same time, that means they have also prevented that same knowledge and technology from helping the rest of the world. Much of the film deals with the pitfalls of isolationism, even going so far at the end to have a none-too-subtle reference to our current political climate: "But in times of crisis the wise build bridges, while the foolish build barriers." Coogler isn't one to back down and has a great time throwing shade in regards to things like immigration and how we treat each other - a lesson I doubt will get across to those who truly need it.

But, don't worry, Black Panther still has plenty of action from a high speed chase on the streets of Busan, South Korea to a ferocious battle between tribes that closes out the film - if you're a fan of the Marvel action side of things, you won't be disappointed. The film does tend to drag a bit in the middle, but that's about the worst offense I can give it. Plus, where else are you going to find a soundtrack that pays homage to African culture and has original songs courtesy of Kendrick Lamar?

Every time I think Marvel has done all they can... they still surprise me. Who could imagine a superhero franchise could ever have this kind of impact and for those who say these films are all popcorn action and no substance, Black Panther would like a to have a word with you.