2.5/4

3.5/4

2.5/4

2.5/4

3/4

2.5/4

4/4

3/4

2.5/4

2.5/4

3/4

3.5/4

2.5/4

3/4

2.5/4

3/4

3.5/4

3/4

3/4

2.5/4

3/4

3.5/4

2.5/4

3/4

2.5/4

Next 25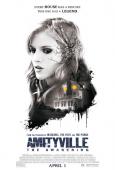 Amityville: The Awakening
Put This Awakening On Snooze
2/4 stars
After suffering though numerous delays, Amityville: The Awakening managed to sneak into very limited release and will survive mostly on home viewing (whether physical or streaming). I would like to think the film would have had a decent conventional release, if it had been released as originally planned, but instead it will be mostly forgotten - though I think they went with the smarter approach at this time, as things could have wound up like The Disappointments Room with a wide release that amounted to nothing.

It's too bad, as The Awakening has a solid cast including Jennifer Jason Leigh has a harried mother who finds a great deal on a big house, mostly to accommodate her son, James (Cameron Monaghan) who has been in a brain-dead, vegetative state for several years following an accident. His twin sister,
Belle (Bella Thorne) quickly figures out this great deal is due to the fact their new home shares a dark history, filled with murder and possible demonic possessions. Her over-eager classmate Terrence (Thomas Mann) is more than happy to go in to the gory details. And, of course, it isn't longer before herself, her younger sister Juliet (Mckenna Grace) and her supposedly brain dead brother all begin to feel the affects of the evil of the house.

The film does one thing well - The Awakening (like New Nightmare) is set in "our" world - that is the real world where they can watch the original film version of The Amityville Horror and make fun of terrible remakes. It pokes fun at itself while also taking an approach that is not often explored in film, horror or otherwise. That and the cast make The Awakening at least worth watching, but the film also takes the easy way out.

Most of the scares come in the form of the lazy jump scare - monsters lurking in the dark, sudden changes, scary dreams - I wanted more atmospheric horror (this is the scary house after all) but it was overall lacking. The few tense moments are spread too far to be that effective. The film also reminds me a bit too much of Paranormal Activity - sure, they ditched the found footage aspect, but it still has the trope of things happening at a certain time, as well as an incredulous possession angle that makes for an equally incredulous ending.

The Awakening is certainly better than many of the other Amityville entries that have capitalized on the name, while bearing little resemblance to the original. It at least connects up with the original in an interesting way and has a cohesive plot that makes sense, even if relies too much on established scares. Horror is subjective, as always, and while The Awakening is not exactly a stand-out film in the crowd, it's also not nearly as bad as one would expect and makes for decent if somewhat uninspired horror.