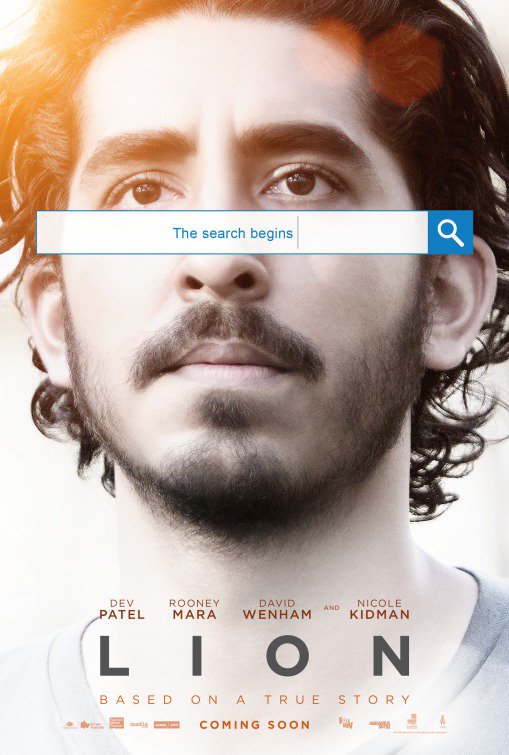 Lion
An Inspirational Journey You Won't Soon Forget
Chris Kavan - wrote on 04/11/17
Labeling something as "inspirational" and "based on a true story" can often be a setup to a schmaltzy film that pours on the saccharine and puts an overly happy face on any situation. Lion, however, gets everything right. It isn't all sunshine and happiness, it's struggle, danger, obsession and yet it takes you on an emotional journey that will certainly put a smile on your face even as you're wiping away those tears.

Lion follows the story of Saroo, who we first meet as a five-year-old boy growing up in a village in India. The young Sunny Pawar is perfectly cast in the role and I can't imagine the movie without him. Saroo lives with his mother, older brother Guddu and infant sister Shekila in harsh conditions, having to steal from a coal train just to get milk to drink. But things are about to get harder when he accompanies his brother to a late-night job and, after falling asleep, wakes up to a deserted train platform where, with his brother nowhere in sight, he boards a train - a train that will take him roughly 1500 miles from his home, winding up in Calcutta where he doesn't even speak the main language. Lost and alone, he avoids some nefarious situations before winding up at an over-crowded orphanage where most never leave. Saroo, however, is lucky as an Australian couple (played by Nicole Kidman and David Wenham) takes him in and, later, another young boy with a few more issues.

Flash forward 20 years and Saroo (portrayed as an adult by Dev Patel) has grown up in a very positive and accommodating life. He leaves his home in order to take a class in hotel management where he connects with a young woman (Rooney Mara) as well as other fellow students. Attending a party where an array of Indian food is served, when he comes across a treat that sparks a memory from childhood - a place he can't quite remember, but desperately wants to find. Luckily a little program called Google Earth has just launch, and it helps him to begin a search. However, his yearning to find his home village and family leads down a path to obsession, cutting him off from those around him, including his friends and family, and he pushes himself down a rather dark path trying to piece together his past.

Lion benefits greatly from the cast. Patel may have broken out to American audiences with Slumdog Millionaire, a movie I loved, but I think Lion is, to date, his best role. Watching him struggle with feelings of guilt and shame - it's amazing how genuine he comes across. As I said, the movie would not be the same without Pawar playing the young Saroo. While I have has issues with Kidman in the past - this is by far one of my favorite roles from the actress as her emotions also come across very strong. Even bit players, like a small bit with Tannishtha Chatterjee and Nawazuddin Siddiqui, come across strongly as the pair play a couple with dubious designs for young Saroo in a scene that moves from caring to creepy very quickly.

The acting is off the charts, but its the story that comes together with such grace. This is the first full-length film from director Garth Davis and I have to say if this is his first effort, I can't wait to see where he goes next. The cinematography is amazing and even the use of Google Earth (who even helped by essentially providing the software that would have been used at that time) doesn't feel forced, but an extension of the story. The kicker is that ending, one of the most emotional experiences you'll find in any of the 2016 Best Picture nominees.

It's hard to fault a movie this good, but about the only thing I wish we could have got was more development outside of Saroo. We especially could have gotten more from Mara's character and even his adopted brother, Mantosh (played by Divian Ladwa). I know this is Saroo's story but I wish we could have learned a bit more about the people around him at the time.

That small quibble aside, Lion was heartfelt and sincere from start to finish. If you want to moved by a film, seek out Lion right now.