3/4

2.5/4

4/4

3/4

2.5/4

2.5/4

3/4

3.5/4

2.5/4

3/4

2.5/4

3/4

3.5/4

3/4

3/4

2.5/4

3/4

3.5/4

2.5/4

3/4

2.5/4

2/4

2/4

3/4

3.5/4

Next 25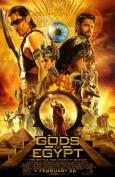 Gods of Egypt
Is This a Game or a Movie? The Gods Must Be Crazy
2/4 stars
I was pretty much expecting Gods of Egypt to disappoint based on the trailers alone. While the film relies way too much on CGI wizardry, I admit is wasn't quite as bad as I expected. Still, when a movie reminds you more of a video game than most video game movies, there is certainly room for improvement.

First off, Alex Proyas - who directed what is still one of my favorite sci-fi films of all time, Dark City, has been on a downward slide ever since I, Robot. Knowing was plain crazy and with Gods of Egypt he has apparently taken a page our of George Lucas' prequel handbook and decided that flashy special effects are all you need for a good film. Sadly, even with giant snakes running amok, gods that bleed gold and all manner of traps - the film never manages to rise above the spectacle.

Some of that has to do with the cast. Gerard Butler, clearly trying to emulate the bravado and energy from his 300 days, comes across more like a manic scene-chewer. Nikolaj Coster-Waldau, bless his heart, can't seem to find a decent gig outside of Game of Thrones - he tries his best, but he comes across as "generic hero who just happens to be a one-eyed god" and Brenton Thwaites as his merely "mortal" thief companion is too chipper for his own good. Elodie Yung plays the goddess of love and is relegated to looking good in a skimpy outfit for most of the film. Really, the only standout here is Chadwick Boseman who manages to be both funny and have the best character in the god of wisdom, Thoth. Poor, Geoffrey Rush has been CGIed to death as sun god Ra - though he actually has some of the best action scenes in the movie.

The film sets up an Egypt where gods and humans co-exist. The gods (taller and also with the gold blood) rule justly thanks to Osiris (Bryan Brown) who has given free reign to the afterlife for all humans. He is ready to relinquish his crown to his son, Horus (Coster-Waldau) even though he seems to be a bit of slacker. But Osiris' brother, Set (Butler) who has lived a much rougher life of solitude, isn't about to let mankind have it so easy. After bringing in a small army, he challenges Osiris, who he handily defeats and also takes out the eyes of Horus - becoming the new ruler. And his new rule is the afterlife is only for those who amass wealth - and also any god who doesn't bow before him will die and any man who doesn't worship him will become a slave.

This sets up the adventure for Bek (Thwaites) our master thief, who loves Zaya (Courtney Eaton) so much so that he will honor the god she most cherishes, the now-in-hiding Horus, by stealing his eyes back. Lucky for him, Zaya is a slave to the master architect, Urshu (Rufus Sewell) and gets plans for the trap-ridden temple where the eyes are kept. Thus the film throws Bek and Horus together as they race across Egypt (and space - where Ra has his ship, really!) to put an end to Set's power and return Egypt to its rightful glory.

Now, the story is decent - moreso than I would have thought as it does offer some character development and puts some big things on the line. But the film relishes more in big action scenes than quiet moments, thus the story is overpowered by huge CGI backgrounds and creatures, making it much harder to connect to the characters. And the effects are just too slick - as I said, like a video game - to have much impact. Really, it was Star Wars prequelitis all over again.

In the end, Gods of Egypt may fulfill your action quoetient, but these are empty calories. Like that big tub of buttery popcorn, it will fill you up but make you feel a bit guilty afterwards.