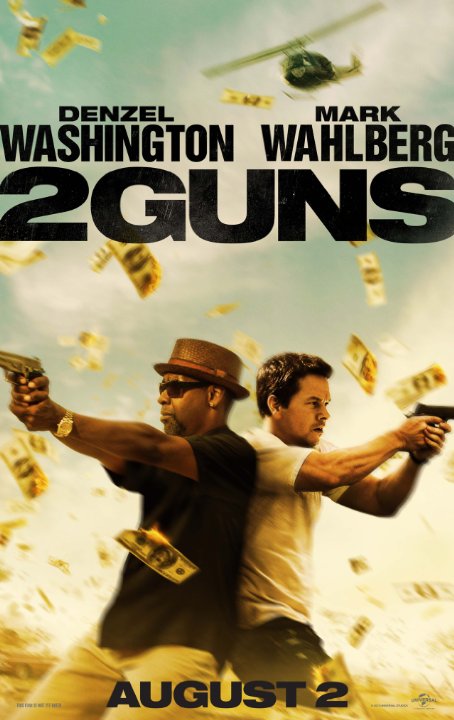 2 Guns
Gunning for Some Decent Action
Chris Kavan - wrote on 08/07/13
The success or failure of a film with two big names depends on how well those stars mesh. If it's a romantic movie, the man and the woman have to have chemistry. If it's an action movie (like 2 Guns) there still has to be that chemistry in order for it to succeed. Lucky for us, Denzel Washington and Mark Wahlberg are completely in their element and they play off each other so well that it makes for interesting, exciting adventure.

There are so many double-crossing, back-stabbing moments in 2 Guns, you many wonder who you can really trust... ever. What begins as a simple bank heist to get back at a Mexican cartel kingpin soon spirals into a much larger conspiracy involving the DEA, the U.S. Navy and the CIA. There are a lot of players here from Edward James Olmos (as the craggy kingpin) to Paula Patton (as Washington's on-again, off-again fling and DEA contact) to James Marsden (the duplicitous naval officer and Wahlberg's commanding officer) to Bill Paxton (as the cold as ice CIA agent). Pretty much everyone wants the $42 million haul that exchanges hands so many times you won't know where to look.

Along the way there are plenty of gun fights and car chases to satisfy action fans. However, the action isn't the main selling point - it's the characters, really! Washington is the more grounded individual, yet plays his role with a deft coolness. From his fake gold teeth to his stylish hats - he truly is the king of cool (with just a shade of his attitude from Training Day shining through). Meanwhile Wahlberg is the more brash, hot-headed and opinionated partner. He's always saying exactly what's on his mind and loves to wink to show his appreciation (whether to a waitress or an armed cartel member). He's cocky, but he's having fun and the two play off each other perfectly.

It's nice to Marsden in a role where he can be the bad guy. But it's Paxton who really oozes the evil charm as a pretty much emotionless CIA agent whose favorite tactics involve thumbtacks and games of Russian roulette. He actually comes across as kind of scary - and that's a good thing. Although things are true and fully over-the-top - for an action movie, it doesn't get too crazy (unlike, say the tank or 100-mile-long runway scene in Fast Six). Considering how bad a rap action films have been getting in 2013, I have to say 2 Guns felt like it hit pretty much all the right notes. The ending felt a bit rushed and it suffered from a few too many twists for its own good, but for those looking for a decent action outing, this should do the trick.