3.5/4

3.5/4

4/4

1/4

3.5/4

4/4

2.5/4

3.5/4

3/4

3.5/4

3.5/4

4/4

3.5/4

4/4

1/4

3/4

3/4

0.5/4

1.5/4

3/4

4/4

2/4

3/4

3.5/4

4/4

Next 6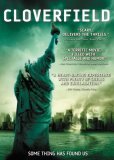 Cloverfield
Amazing
4/4 stars
Cloverfield follows five New Yorkers from the perspective of a hand-held video camera. The movie is exactly the length of a DV Tape and a sub-plot is established by showing bits and pieces of video previously recorded on the tape that is being recorded over. The movie starts as a monster of unknown origin destroys a building. As they go to investigate, parts of the building and the head of the Statue of Liberty come raining down. The movie follows their adventure trying to escape and save a friend, a love interest of the main character.

Cloverfield is one of the biggest mysteries to ever hit theatres. Before theatrical release, nobody knew anything about the movie. The big things we knew was that it dealt with a very large creature of some sort in New York City, and also the fact that it was filmed to look like it was shot by a home video camera. Both of these elements brough people to see the movie. Even now, in May, while the movie is on DVD, theyre are still little hints and secrets being leaked about the creature and the plot. The trailer for Cloverfield was shown with the theatrical release of Transformers, for I saw Transformers on opening day and was one of the first people to see the trailer.

JJ Abrams produces this epic of a movie. Dont get confused now, many people thought that JJ was actually directing this, Matt Reeves is our director here. Many people thought that the idea of being shot by a home video camera would make the movie better, which it did. After the initial release though, many people got sick from the look of the movie. There is no way that this movie would have as much of a visual impact as it did without this directing style. This gets us up close and personal with the tragic events along with the characters.

If you have not seen Cloverfield yet, then dont expect that the day after you see it, your going to be able to tell your friends what the creature is. At first believed to be Godzilla, it is something completely new. there are about 3 moments in the movie where we get a great shot of the creature, one in the beginning, one in the middle and at the end. Still, after I have watched the movie numerous times, I still cannot explain what the creature is. The only thing I can say is that it sheds parasites and it has lungs on its head.

Cloverfield is an intense movie which almost never slows down. Flat out, I love this movie.

** Look for a few hints in the movie while your watching it. In the end where there is a shot of the characters on the ferris wheel, when they are looking out into the ocean, something falls from the sky and lands in the water.