3.5/4

3.5/4

4/4

1/4

3.5/4

4/4

2.5/4

3.5/4

3/4

3.5/4

3.5/4

4/4

3.5/4

4/4

1/4

3/4

3/4

0.5/4

1.5/4

3/4

4/4

2/4

3/4

3.5/4

4/4

Next 6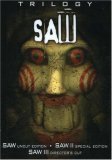 When Adam (Leigh Wannel) and Dr. Lawrence Gordon (Cary Elwes) both wake up chained to pipes in an old and rotting bathroom, the game begins. A dead man lies in the center of the room, a gun in one hand and a tape recorder in the other. The men begin to ask each other questions about their situations, that's when the clues begin to come out. Now, they have until 6:00 to figure out the mystery which lies between them, and to win the game.

Let me start off by talking about the very unique plot of the movie. This is not like any other horror movie you have ever seen, Saw has actually created it's own little genre in the horror world. Some say its torture horror, which brough films like Hostel around. We must understand though that the movie is more then just plain old fashioned blood and gore. Jigsaw (Tobin Bell) is our so called killer in the movie. When actually, he has not killed anybody. He finds ways for the victims to kill themselves. His whole look on life says that if you appreciate your life, then you deserve life. If you take advantage of your life or break crimes then you dont appreciate the gift of living, therefore you deserve to not live. Through all of his games, the victim must build it up in themselves to survive, then if they do survive, they shall have a new look on their lives. This is very interesting to use in a horror movie because it gives the audience some realism into the character of Jigsaw.

Along with being a horror movie, it equally succeeds as a suspense film. While with the first 30 minutes of the movie we know really nothing except that these two men are somehow involved the Jigsaw case in one way or another. As the film advances though, Jigsaw finds ways to mess with their heads, to turn on eachother rather then having trust between them. To me, Jigsaw is one of the smartest serial killers to ever grace film. Don't let people fool you though, this film is not at all based on any true story. It is completely fictional. The surprise ending in Saw is amazing. Since many horror films have the same repetitive ending as the last one, Saw blew both my family and I away.

James Wan is a director which us as film lovers have been graced with. Many films after the releae of Saw have tried to match the movie in terms of visual style and editing ways. James uses all of the technology at hand to make the film spectacular visually. We get a bunch of speed ups, slow downs, quick edits and much more which grace the screen. Making it appear to be a grittier and grislier side of MTV.

Saw does not hold back when it came to spilling blood on the screen. When people ask me how gory the movie is, I simply tell them that the movie does not have many moments where there will be violence, but when it does it strikes hard. We get gunshots, a slit throat, a beating and a sawed off leg, but each one really spills the violence.

Saw is one of the most unique horror movies to hit the big screen in a long time. As a horror movie lover, Saw is number one of my list of top 50 horror movies ever made.