3.5/4

3.5/4

4/4

1/4

3.5/4

4/4

2.5/4

3.5/4

3/4

3.5/4

3.5/4

4/4

3.5/4

4/4

1/4

3/4

3/4

0.5/4

1.5/4

3/4

4/4

2/4

3/4

3.5/4

4/4

Next 6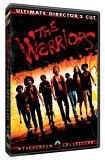 Warriors, The (1979)
Nice
3/4 stars
The simple plot of the 1979 cult classic film The Warriors certainly points you in the wrong direction about the movie. When a man named Cyrus tries to join together over 100 different gangs in New York, he is shot and killed during his speech. Being blamed for this killing, Th Warriors fight to get home, as they are constantly distracted by attacks of local gangs, women and others. This plot is yet again, simple. So we watch a whole movie about 8 people getting home to Coney Island. Seems like a waste of time. This movie is awesome. This review is based off of the Directors Cut version of the film, not the original version, so some little things may be off to those who seen the original.

Since this movie is a classic, effects and action wise, dont expect huge explosions and tons of gore, expect little campy fight scenes which are horribly good. The movie is brutal, rough and certainly fun to watch. Director Walter Hill does a good job with these action moments, now since were looking at the time period of the 1970's, gore and big effects were just being used to make the movies better. This movie would be horrible if it had been drenched in effects and gore. Its simple yet fun to watch.

There are certain moments of the films, or shots, which are just amazing. The director uses nice, soft and subtle shots to calm you down, until the next fight scene. The cinematography of the movie is beautiful with some really unforgettable moments. Just the opening 5 minutes are amazing to watch.

I cant really say anything to harsh about the movie, it does slow down and gets a little campy, but I still enjoyed it.