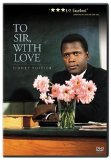 To Sir, With Love
To Sidney, with the greatest respect
4/4 stars
I just watched again this movie last night. It was just all perfect. I love to see Poitier's character upset and angry. He does it so well. Basically, what I believe, is that this move started the whole franchise of "Dangerous Minds" Stand and Deliver" crowd. I'm not great when it comes to movie history, but I just don'w know of a movie like this that proceded this.
Basically, it is about a Man, Sidney, who can't find work in his field so he takes the job of a teacher. His students are misbehaved deliquents. blah, blah ,blah he finds a way to get to them personally, the way he does it of course is a first also, and connect with the children and they learn to respect him, each other and importantly, themselves. Near the end of the movie, he gets a letter and it is a great job offer. While alone in his class room, two rowdy students barge in and say something like, "we got you as our teacher next year" in a not so nice way. then they leave the class room. Sidney, looks at the letter in his hands, and tears it up. For he know, he has much more work to do.