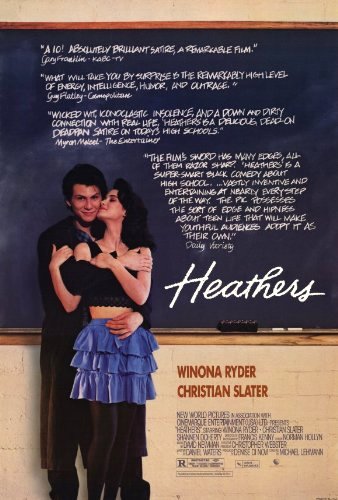 Heathers
Lick It Up Baby, LICK-IT-UP
Austin Shagwell - wrote on 03/10/09
Back in the 1980's, when a movie about teenagers, high school, cliques, and the "in fads" of the time (i.e. suicide) would be common; a dark (very dark, might I add) movie arose; a black comedy was released, and hardly anyone went to see it. Today, this movie is undeniably a classic. Specifically, a cult classic. With Winona Ryder (the original Wino,) Christian Slater (you know, that one guy, from those canceld t.v. shows) and Shannen Doherty (Ms. Brenda Beverly Hills Walsh,) all in there teens. I think.

In a nutshell, Heathers is a film about Veronica Sawyer, a girl with a diary, who hangs out with the Heathers, the cool clique of the school. Veronica meets Jason, the mysterious new outsider. Together, the two of them go on an unplanned (for the most part) journey involving murder, swatch dogs, fake suicides, diet coke heads, and sluchies.

My personal favorite movie of all time.
I would recomend this movie to anyone who enjoys: dark comedeys, actors earlyer films, and of course, highschool movies.
Recent Comments