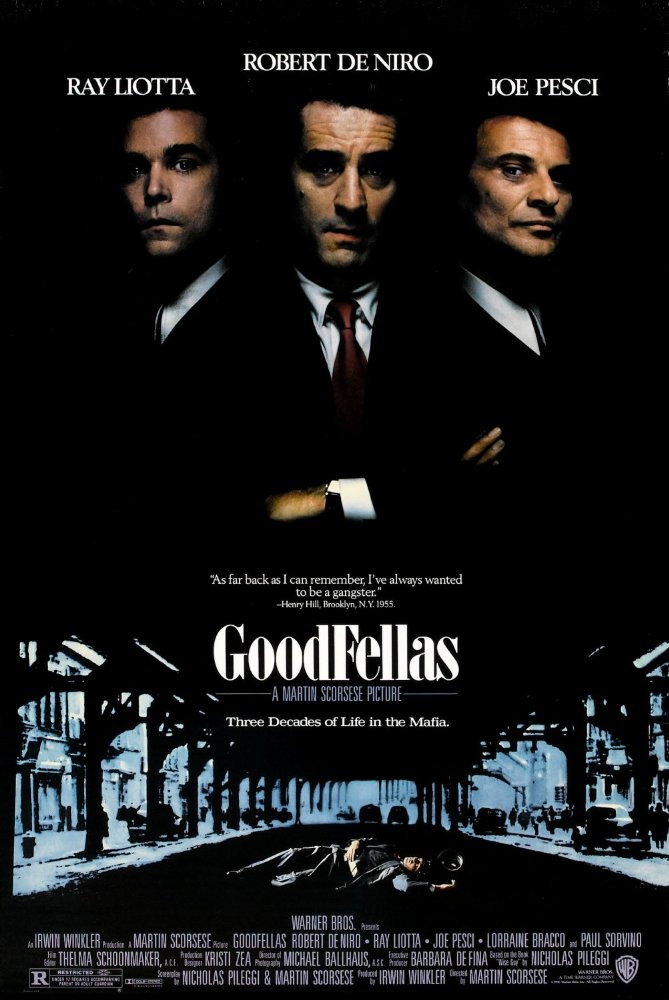 Goodfellas
Masterful but brutal gangster tale.
filmfan09 - wrote on 03/10/09
Ray Liotta, Robert De Niro and Joe Pesci star in Martin Scorsese's unromanticized classic tale of mob life in New York City in the movie 'Goodfellas'. "Since 1976 when he directed 'Taxi Driver', Martin Scorsese has since stood alone at the top of the art of film directing in the world of today." -- Roger Ebert. I agree abolutely 100% with his quote. I consider his 'Raging Bull' the film odf the decade of the 1980's. With 'Goodfellas' Scorsese scored yet another excellent masterpiece. This is a film that ranks right next to 'The Godfather' for it portrait of organized crime. The movie stars Ray Liotta in the true story of Henry Hill, a Irish-Italian kid who only goal in life was to work for the mob. Henry traveled in style, breaking laws, abusing those he loved being untouched by corrupt cops only later to be fueled by drug addiction and paranoia, led to the awareness that his days in organized crime were numbered which he turn himself in to the FBI, ratted out his friends and fled into the witness protection program.

On of liotta's best friend's in the mob is played by Joe Pesci (who won an Oscar for Best Supporting Actor). He has a out of control temper that flares instantly into violence. The movie also stars Scorsese's long time best friend Robert De Niro. This movie is about amoral, unethical, and illegal behavior. The characters lie, cheat, steal, gamble, abuse drugs, torture, and kill. They are driven by an unwavering loyalty to the most violent and powerful among their peers. The life of the mafia in this film is a community isolated from the rest of society by its own warped values which are okay to themselves nobody will never disgree with them. I hve never seen a movie, even a movie by Scorsese that fully sucked me into the world and emotions of theses people.

Joe Pesci 's performance as the guy who could go off in any second and if you make an insult toward him will pull out his gun and shoot you then laughs is so important in this movie. Joe Pesci gave the performance of his career and he richly deserved to win best supporting actor that year. To say that Joe Pesci is the best part of this film would be to discredit the rest of the cast. Ray Liotta is perfect as Henry Hill and Robert De Niro gives another one of his best performances as Jimmy. All the profamances in this film are good, there is not one bad preformance. This is such a good movie. The story and script by Nicholas Pileggi, who also co-wrote the screenplay for the film with Scorsese is sheer brilliance. You can feel the inside observations that no one can have except for a guy that spent his whole life on the inside. There are so many tiny observations in Goodfellas that give it the authenticity it has.

I think this is Scorcese's best film and it still puzzles me that this didn't win Best Picture however the fact that "Dances with Wolves" did. I still shocks me how Scorsese did'nt win his 1st Oscar for this film. It is a landmark film and is one of the quintessential gangster films. It's better than The Godfather in my opinion because of its real life approach to mob life. I'm not taking no credit away from Coppolla's Godfather epics, but to me this movie goes one step beyond what Coppolla gave us, and for that Goodfellas should be remembered as the best film about gangsters ever made.