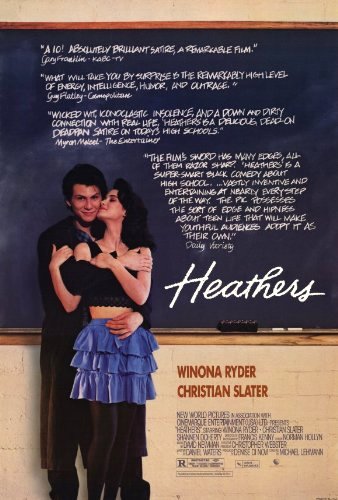 Heathers
Heathers Review
Bill Ward - wrote on 10/18/20
Heathers is a movie that was interesting watch, but I did not really enjoy watching as much as I felt. It was very stereotypical in the high school movie genres. There are popular cliques, nerds, jocks, outcasts, etc. This is a film that critically is very well put together, but I do not find it very original in the school setting.

There was a sense of dark comedy in the film, which was used very well in the conversations between characters. It seemed like the characters were playing a game with each other at points, like when the Green Heather took the Red bow and Veronica acknowledging there is someone else mending the top of the food chain. This dynamic within the characters and their symbolism is what made me interested in watching the rest of the film.

I do give this film great in a critical sense, but I would not choose this film as my first choice on a re-watch over any kind of film. It is thought provoking, but relies on the normal high school clique genre too much as well.