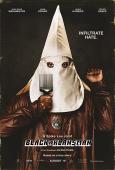 BlacKkKlansman
"BlacKkKlansman" Delivers on All Fronts
3.5/4 stars
"BlacKkKlansman" follows an African American man named Ron Stallworth, who decides to join the police force of a city in Colorado. He is their first African American police officer, but the story doesn't focus too much on that. The story really gets going when Stallworth decides to call the local KKK chapter after seeing their advertisement in the local newspaper and acts like a white man who wants to join. From there, he teams up with two other officers from his department to infiltrate the KKK and gather information.

The story here is incredibly entertaining. Spike Lee captured the time period perfectly (shocker) and the way the story unfolds is nicely paced. The only real issue I had with it is that I felt like the finale wrapped up a little too quickly.

Some review sites have labeled this as a comedy. Heck, I picked up a bit of comedy vibe from the trailers, but please don't go into this expecting it to be a full-blown comedy. There are some very funny moments, yes, but this is very much a serious film. There is also a lot of cussing, and a lot of derogatory remarks (which shouldn't be that surprising given the time period of the film).

There is a nice balance of seriousness and humor in this film. And, thankfully, the serious moments aren't always undercut by comedy to lessen the blow or make the audience feel less uncomfortable. There are scenes where you're going to feel uncomfortable. It's intentional.

This is also pretty much the definition of a "politically charged" film. Spike Lee is getting a very obvious message across and he doesn't try to sugarcoat it.

Overall, Spike Lee gets a clear message across while providing the audience with an entertaining film at the same time. I'd definitely recommend it if you go in knowing what to expect.