4/4

4/4

0.5/4

0.5/4

4/4

0.5/4

3/4

1/4

1.5/4

3/4

2/4

4/4

4/4

3.5/4

4/4

4/4

4/4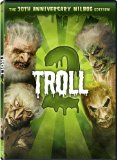 Troll 2 ( Goblins )
So bad it's so so bad
0.5/4 stars
Oh no. "They're eating her, and then they're gonna eat me. Oh my god!!!!!!!!!!!!!!!!!!!!!"
One of the many ridiculous parts of Troll 2: The Worst Movie Ever Made In The History Of Films.
Troll 2 is bad for these reasons:
1. So bad it's so good.
2. No connection to the original.
3. They aren't trolls, they're GOBLINS!!!
4. Troll 2 is the marketing title.
5. Horrible acting.
6. Completely stupid story, overall.
7. Goblins eat humans by TURNING THEM INTO PLANTS BY MAKING THEM EAT VEGAN STUFF!
8. Creedence talks very slowly.
9. Ridiculous scenes, such as the girl turning into vegetable matter by drinking broth.
10. WILL MAKE YOU LAUGH SO HARD!!!
11. Lesson is to not be a vegan.
Troll 2 was made because some idiot was like "GOD! All my friends are vegetarians! TIME FOR REVENGE!"
But you will laugh yourself to death.