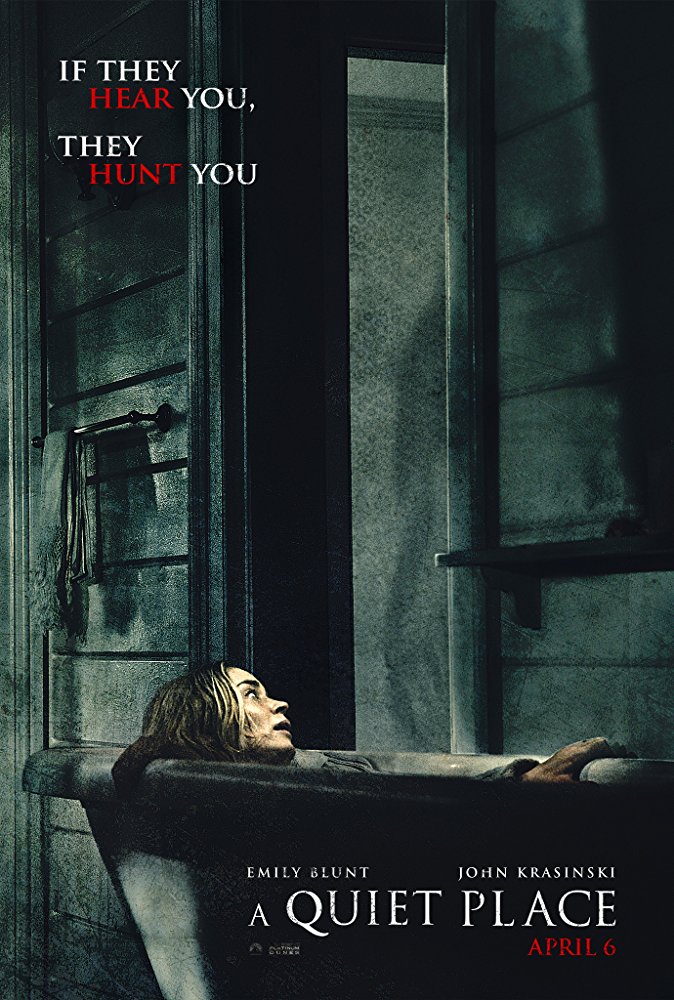 A Quiet Place (2018)
Silence is survival...
MovieMike - wrote on 04/08/18
It's not often a truly unique movie experience comes along. 'A Quite Place' is definitely one of those. Making his first big-screen debut, John Krasinski also served as co-script writer, and is the lead character in this film. Starring alongside his real-life wife, Emily Blunt, he delivers an earnest and engrossing story. At 90 minutes, this film immediately engages the audience in the narrative with only small bits of information on the actual backstory, and the story line remains highly focused and spare. With the story premise that sound brings certain death, that facet of the story is driven home in a powerful way within the first ten minutes.

Krasinski plays Lee Abbot and Blunt is his wife, Evelyn. Together they are struggling to survive this constant threat on a rural farm. Rounding out this tiny cast is Millicent Simmons (who is actually deaf) is their oldest and deaf daughter. Her physical condition is woven into the story line. Noah Jupe, who already has an impressive acting resume, plays the middle son to great effect. Cade Woodward, also making his big screen debut, is the youngest sibling. Together they must adapt to living a silent life or pay the ultimate price.

The movie is so effective because it immediately sets a level of suspense that is maintained throughout the story. The audience gets no relief and certain events only serve to increase the tension. It's extremely engrossing to watch and as a viewer, one is easily caught up in the potential for disaster at every turn. The term 'nerve-wracking' doesn't seem sufficient. You could hear a pin drop in the theater where I saw this movie. Because of this, the use of sound in the film is also played very effectively. With no real musical soundtrack, the use of Neil Young's 'Harvest Moon' is especially poignant and heartwarming. Industrial Light & Magic supplies the special effects which are kept to a (thankfully) bare minimum and this judicial use only enhances the authentic feel of the film.

I found it best not to overthink the story line, as I began to envision a number of plot holes, but because the film is so involving, the viewer isn't given the opportunity to second guess any of the elements involved here. I did feel that this offering sort of paralleled a recent episode on the NetFlix series, 'Black Mirror'. Season 4, Episode 5 – 'Metal Head' contains a similar scenario where humans are being hunted; but the whole silence concept used in 'A Quiet Place' definitely sets this film apart. By far, 'A Quiet Place' is the biggest (silent) bang for the buck I've had at the movie theater in a long while.