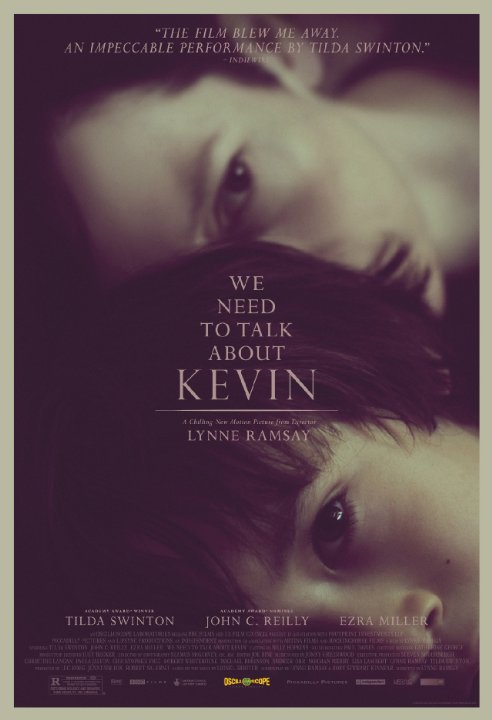 We Need to Talk About Kevin
Engrossing 'Indie'
MovieMike - wrote on 01/25/17
It's a shame many independent films never get the same exposure as offerings from the major movie studios. Most 'Indie' movies never make it to the local cinema, and have to rely on popular buzz from venues like Sundance to get an audience. Unless you're fortunate enough to catch the film at the nearest art-house theater, it will likely get lost in the shuffle of all the titles thrown at you from the pay-per-view and Netflix listings. I've reviewed a number of these kinds of films since starting this blog ('Memento' and 'Frozen River' come to mind) and I'm always on the lookout similar works to share with those of you who also want to experience something that is unusual and outside of the norm of the standard Hollywood fare.

I had read a short description on 'We Need To Talk About Kevin' when I was recently combing through listings of upcoming films. It seemed intriguing enough, and I put it on my mental short list of films to look out for. As usual, this one didn't make it to any of the local theaters, but I came across it as a DVD rental and quickly snatched it up. Released by Oscilloscope, '…Kevin' is based on a 2003 novel of the same name written by Lionel Shriver. The film is directed by Lynne Ramsay (who also shares a screenwriting credit) and stars Tilda Swinton ('Chronicles Of Narnia', 'The Curious Case Of Benjamin Button') and John C. Reilly ('Walk Hard – The Dewey Cox Story') as Kevin's parents.

The main focus is on Tilda's character Eva, and her interaction (or lack thereof) with her first-born, Kevin. Director Ramsay employs a different method in laying out this story. She presents the viewers with a number of short snippets that appear in no particular chronological order. Many of the early clips also have little-to-no dialog as well. I equated them to quick little Rorschach tests where you have to being to think about what you've seen and what it means to the actual story. As we are fed pieces of Eva and her husband, Franklin's early life, we quickly see that as Kevin arrives, things immediately become unsettled. Eva's frustration in dealing with motherhood quickly turns to a form of dread. The random snippets also hint of much darker things to come.

'…Kevin' is hard to watch, especially if you've raised kids or are a parent. The subject of dysfunctional families, enablers, and child abuse are starkly portrayed here. The format of the film may also put some people off, but I think it was an excellent approach and had the effect of watching someone paint a picture, but they painted in all the background in first before presenting the main subject. I initially questioned the casting of John C. Reilly, since he's mainly been associated with offbeat comedies, but he is actually excellent as the mostly inert husband who is also quite passive with his son. Swinton also gives an excellent performance as a woman whose sense of dread grows and grows until she is all but paralyzed by it. Jasper Newel (as Kevin 6-8 yrs old) and Ezra Miller (Kevin as a teenager) deliver master performances in this film. While some of this did remind me of 1993's 'The Good Son', '…Kevin' is more of a psychological drama and carries a heavier dramatic punch.

I thought '…Kevin' was an excellent film because of both the unique format and the depth to which it explored the various interactions between the principals involved. As disturbing as the story was, it was also engrossing without once ever seeming contrived or forcefully dramatic. If you're tired of Super-heroes and sappy love stories, and summer blockbusters are not what you're looking for, perhaps its time to check out an 'indie' offering like this one.