3.5/4

4/4

3/4

3.5/4

3/4

4/4

3/4

2.5/4

3/4

4/4

3/4

4/4

3.5/4

3/4

4/4

2/4

4/4

2.5/4

3.5/4

4/4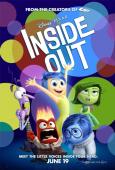 Inside Out (2015)
Pixar's return to form
4/4 stars
When it comes to animation, Pixar rarely disappoints. As of late however, Pixar has released more sequels than original concepts, so it was nice to see a company that has produced classics such as "Toy Story" and "Finding Nemo," return to form in June 19's "Inside Out".

"Inside Out" centers on a young girl from the Midwest named Riley, whose life is changed drastically when she and her parents move to San Francisco. While Riley is technically the main character of the story, her personified emotions of Joy, Sadness, Fear, Anger and Disgust comprise most of the screen time, with Joy and Sadness being the true stars of the show. These characters constantly control Riley's emotional state like a well-oiled machine, and also preside over her memories.

Shortly following Riley's move to San Francisco, Joy, Sadness and all of Riley's core memories get sucked into a memory tube after a struggle over a memory that Sadness tampered with. The memory tube leads Joy and Sadness to the recesses of Riley's mind, leaving the other three emotions with the task of keeping Riley psychologically stable, not knowing if Joy and Sadness will ever make it back. Amy Poehler and Phyllis Smith shine as Joy and Sadness, and the character arc of Sadness is one of my favorite aspects of the film.

While "Inside Out" is definitely marketed as a kid's movie, the film's humor and themes will certainly hit home with older generations. The plot is extremely well written, and has a great balance of light-hearted comedy and tear-jerking moments. With a fantastic cast, eye-popping animation and a wonderful story, "Inside Out" is a must-see for all ages.