3.5/4

4/4

3/4

3.5/4

3/4

4/4

3/4

2.5/4

3/4

4/4

3/4

4/4

3.5/4

3/4

4/4

2/4

4/4

2.5/4

3.5/4

4/4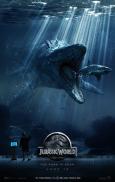 Jurassic World
The best of the "Jurassic Park" sequels
3/4 stars
On June 12, 2015, Colin Trevorrow took us back to the iconic island of Isla Nublar, but this time not to Jurassic Park, but to a fully realized Jurassic World.

In this fourth installment of the Jurassic Park franchise, Dr. Hammond's original vision for Jurassic Park has come to fruition in the form of a fully functioning Disney World with dinosaurs. While the park controllers and scientists do manage to make Dr. Hammond's vision a reality, they fail to learn from past mistakes, making an even larger one by creating a genetically modified killer known as the Indominus Rex. When the I. Rex escapes and wreaks havoc on the island, it's up to velociraptor expert and trainer, Owen Grady (Chris Pratt) to take her down.

Simply put, this film is a blast. The dinosaurs look great, Pratt is superb and John William's original "Jurassic Park" theme will have viewers grinning from ear to ear. The movie is not without fault though. Absurd decisions are made by a few of the characters, the dialogue is campy at times and the tone is all over the place. The nostalgia the film brings however, as well as the stellar final act overshadow these flaws. While it doesn't touch Spielberg's original, "Jurassic World" is definitely the best of the sequels, and I am looking forward to where the franchise takes us next.