3.5/4

4/4

3/4

3.5/4

3/4

4/4

3/4

2.5/4

3/4

4/4

3/4

4/4

3.5/4

3/4

4/4

2/4

4/4

2.5/4

3.5/4

4/4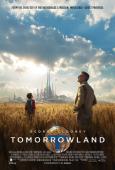 Tomorrowland
Worth checking out
2.5/4 stars
Brad Bird, known for directing films such as "The Incredibles" and "Mission Impossible: Ghost Protocol," actually declined on the opportunity to helm the next Star Wars film to bring us "Tomorrowland" in May. Regardless of one's opinion on Bird's move, his choice to pursue an original project in spite of the glamour that Star Wars offered is an admirable one, and the movie definitely did not deserve its poor box office turnout.

Because of some intriguing concepts presented, it is better to go into "Tomorrowland" with as little knowledge of the plot as possible. The film's acting is excellent, with great leads in Britt Robertson and George Clooney, and a surprising breakout performance from child actress Raffey Cassidy.

Bird has been known for his captivating visuals, and as expected, the film's look is fantastic, adding to the wonder and amazement evoked by the world of "Tomorrowland." While the movie drags in places and its third act feels a bit cliché, it is still quite enjoyable, and is worth checking out when it hits Redbox in October.