3.5/4

4/4

3/4

3.5/4

3/4

4/4

3/4

2.5/4

3/4

4/4

3/4

4/4

3.5/4

3/4

4/4

2/4

4/4

2.5/4

3.5/4

4/4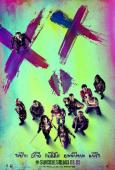 Suicide Squad (2016)
While disappointing, still a good experience
2/4 stars
If anything, the marketing team for "Suicide Squad" did their job well. Following the critical backlash against "Batman v Superman: Dawn of Justice," the second trailer for David Ayer's supervillain team-up showcased a more light-hearted tone than that of last spring's Comic Con teaser, and all of the following trailers and TV spots were edited to near perfection. The hype was real. The stakes were high. But how did it measure up?

The characters and the talent behind them are the driving force behind "Suicide Squad." DC could not have made a better casting decision than Will Smith as Deadshot, and Margot Robbie was nowhere to be found in this movie: there was only Harley Quinn. And where there is Harley Quinn, there will always be the Joker.

All of the film's promotional material pointed to Jared Leto's clown prince of crime being the primary antagonist, but sadly this was not the case. The band of supervillains are instead tasked with taking on an evil more supernatural in nature, an odd choice considering that only two members of the squad actually have powers.

The film's pacing is abysmal, its story is bland and the reason that the squad gets together makes very little sense. However, these negative aspects did not compromise my enjoyment of "Suicide Squad" as a whole because of the humor and fun brought forth by the characters and their interactions with one another. I look forward to seeing more of these villains, and I remain optimistic about the future of the DC cinematic universe.