3.5/4

4/4

3/4

3.5/4

3/4

4/4

3/4

2.5/4

3/4

4/4

3/4

4/4

3.5/4

3/4

4/4

2/4

4/4

2.5/4

3.5/4

4/4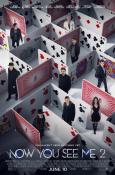 Now You See Me 2
Flawed, but magical at times
2.5/4 stars
This film definitely should have been titled, "Now You Don't." Despite my bitterness toward this, I was looking forward to the return of the Four Horsemen this past May. And while this is not a well-made film, there is still a lot of fun to be had.

Led by illusionists Dylan Rhodes (Mark Ruffalo) and Daniel Atlas (Jesse Eisenberg), infamous magicians known as the Four Horsemen are back to entertain and thieve using their skills in deception and sleight of hand. Daniel Radcliffe also joins the cast as tech genius Walter Mabry, who forces the Horsemen to steal a chip that will give him control of all of the world's computers.

What made "Now You See Me" so entertaining was the chemistry between the Four Horsemen and the energy they brought to each of their shows. A nice subplot about a lone detective hunting down the magicians in between their shows also kept the viewers' interest as they awaited the Horsemen's next spectacle.

This sequel offers an abundance of plot and new characters, but not enough spectacle. While Rhodes' subplot is somewhat interesting, the resolution of it undermines the impact of the first film's plot twist. The replacement of Isla Fisher's Henley Reeves with Lizzy Caplan's Lula as the female Horseman was also an unwelcome change.

However, in the little time they do have in the spotlight, the Horsemen are once again electric. Their charisma and charm give the film just enough magic to overshadow its flawed storytelling and direction.