1.5/4

3/4

3/4

4/4

4/4

4/4

2.5/4

4/4

3/4

3.5/4

4/4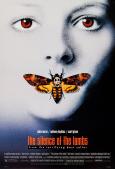 The Silence of the Lambs
Takes a ďbiteĒ out of your mind
4/4 stars
Well, we all know how extraordinary this movie is. Winner of 5 Academy Awards for Best Picture, Best Director, Best Actor for Anthony Hopkins, Best Actress for Jodie Foster and Best Adapted Screenplay.

Jodie Foster plays Agent Starling a trainee in the FBI sent to speak to Hannibal Lector, former psychiatrist and serial killer who ate his victims, hence the nickname ďHannibal the cannibal. Her alignment is to take notes on his behavior and to get him to open up which has proved unsuccessful with past profilers. At the same time Buffallo Bill, a serial killer who leaves his victims skinned, is on the loose and pursued by the FBI and authorities.

Hannibal develops a liking for Starling, and instead of being assessed offers do conduct a criminal profile of Bill which would greatly assist Starling in catching the killer and moving up the ranks.
What evolves from this is the strange relationship between Hannibal and Starling as she is helped by a killer to catch a killer.

The acting is phenomenal and both Hopkins and Foster received the best actor Academy awards for the portrayals. Hopkins pulls off the role amazingly, with his ever imposing and threatening demeanor. Even though he is locked up in a maximum security cell with protective screen separating him from anyone on the outside, he still poses a threat with his composure and overwhelming intellect. Lector is a psycho who, if doesnít physically kill and eat you, will destroy you psychologically. Very dangerous indeed.

Foster, as the ambitious and ethical Starling, brings to the screen her troubled and shattered soul. The daughter of a police officer who was killed on duty and thereafter subject to a traumatizing childhood has all it takes to be a top agent but is still tormented by her past demons and insecurity.

Excellent character backstories and build-up. Itís a film where both viewers and characters get into each otherís heads.

The score is haunting paralleling the unsettling and disturbing nature of the film and is one of those that you donít forget afterwards. One of those movies where the theme becomes one of the defining characteristics of the film.

Itís a film that never gets old. Made in 1991, 25 years ago, it still envelops viewer who have seen it before and those who are seeing it for the first time. Definitely one of the best psychological thrillers ever made and a well-rounded one at that.