3/4

2.5/4

2.5/4

2/4

4/4

3/4

3/4

2.5/4

3/4

2/4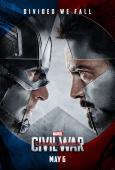 Captain America: Civil War
I Should Probably Like It More Than I Like It
2.5/4 stars
Stepping back and looking at, it really is a feat what they pull off and how theyíre able to juggle all the different characters and their story lines, while still managing to introduce a new threat/villain. Everything they pull off Iím sure was hard as heck to do. And I did like the movie. It was funny and the action sequences were good. Itís all there, and yetÖ I just didnít care that much at the end of the day. Iím not sure if itís because Iím personally getting a little burnt out on superhero movies, or Iím not buying into the stakes of the movie. It was funny and fun to look at, but never thrilling or intense to me.

Paul Rudd was pretty amazing though. RDJ always fantastic. Elizabeth Olson is too pretty Iím jealous. And the new Spider-Man is good. Though, the idea of watching another Spider-Man movie makes me want to take a nap.

Overall: Itís all there. Itís really well done. I just didnít quite care all that much, but I think that's because Iím getting numb to superhero movies and their stakes.