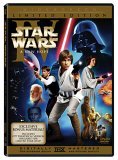 Star Wars: Episode IV - A New Hope
Star Wars
4/4 stars
"Star Wars" practically invented the blockbuster film and is, to this day, one of the finest examples of escapist entertainment ever made. It's the perfect conglomeration of a multitude of genres, blended together to make something completely original and groundbreaking.

George Lucas and his team created an entirely new universe that feels authentic and lived-in, full of history and compelling characters who have become icons in the history of film. "Star Wars" is as fun and light-hearted as any film in the action/adventure genre but it's the underlying depth, which permeates the story, that turns it into something more - something transcendent.

The imagination behind the film's visuals (which hold up remarkably well today) is unprecedented and the legendary score by John Williams is unmatched in the history of cinema. "Star Wars" is the very definition of movie magic.