3/4

1/4

3.5/4

3/4

3/4

2.5/4

3/4

2.5/4

1.5/4

2/4

3/4

3/4

2.5/4

3/4

3/4

3/4

4/4

2.5/4

2.5/4

3/4

3.5/4

3/4

3.5/4

3.5/4

1.5/4

Next 25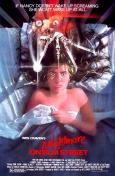 Nightmare on Elm Street, A (1984)
Horror goes Mainstream
3.5/4 stars
This movie helped propel horror films into the 21st century. The whole series is great, but this one is by far the most true to the genre. The directing was good and scenes like the girl being attacked on the ceiling by a seemly inviable man helped add to its scare factor and shows that even without computer special effects you can do some extraordinary things.

The dialog was probably the worst part of these movies. All the dialog sounds too planned and predictable and it hurts the film's ability to make you believe that the these people are just the typical teenagers. The acting by Heather Langenkamp was ok and Johnny Depp shows a glimpse of why he is going to be a star someday.

The best part about these films are how they entered everyday life so much. I remember my sister scaring me by chanting the Freddy song..."One, two Freddy's coming for you..." The series will always be a classic and if you like Horror you need to check them out.