3.5/4

3/4

1.5/4

2.5/4

3/4

1/4

3/4

2/4

0.5/4

1/4

3/4

3/4

2.5/4

2.5/4

1/4

1.5/4

3/4

2.5/4

2.5/4

3/4

3/4

3.5/4

1.5/4

3/4

2.5/4

Next 25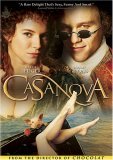 Casanova

3/4 stars
Witty and humorous thanks to a delightful cast, this period farce about the famed lover Casanova is a lot of fun to watch. Heath Ledger plays the dashing Venetian rogue Giacomo Casanova with the right amount of charm and debonair.
The story introduces him as he must find a proper match to both climb the social ladder and avoid becoming a target of the powerful Catholic Church. He is aided by his sidekick Lupo and comes across fencers, merchants, socialites, proto-feminists, and a nasty cleric (Irons).
The cast is clearly enjoying themselves. The mood is light and breezy. There is absolutely no reason that this was rated R though. It's far more risque and cheeky than sweaty and raunchy smut.