3/4

2/4

2.5/4

1.5/4

3/4

2/4

3.5/4

1/4

3/4

3.5/4

3/4

3/4

1.5/4

2.5/4

3/4

1.5/4

3/4

1.5/4

3/4

3/4

1/4

2.5/4

1.5/4

3.5/4

2.5/4

Next 25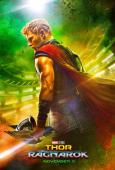 Thor: Ragnarok
The God of Thunder returns in epic fashion!
3.5/4 stars
A dazzling and splashy 80s-styled comic book adventure that blows both the previous Thor movies clean out of the water.

Director Taika Waititi is better known for his offbeat comedies and like James Gunn with Guardians of the Galaxy, it's evident in Thor: Ragnarok as well. With colorful special effects, cheeky humor, and quirky side-characters, the movie zips along from one action scene to the next. All the while, it opens the Marvel Cinematic Universe further for future adventures.

Chris Hemsworth is finally free to be more humorous and laidback as the noble Avenger Thor while Tom Hiddleston returns to chew the scenery as his ne'er-do-well brother Loki. Cate Blanchett is a blast as the crazed and psychotic Hela, or as she likes to remind others, the Goddess of Death. Tessa Thompson, Karl Urban, and Jeff Goldblum provide ample support as new characters. Mark Ruffalo returns also as Bruce Banner/Hulk but aside from the gladiator battle seen in trailers, he's not given much to do.

'THOR: RAGNAROK' more than compensates for the lackluster 'THOR: DARK WORLD' and even the first movie's shortcomings. Does that make it one of Marvel's best? Well, it's certainly one of the most imaginative and enjoyable in a while.