2.5/4

2.5/4

3/4

2/4

2.5/4

2/4

1.5/4

2.5/4

1.5/4

2.5/4

3/4

3/4

1.5/4

2/4

2/4

2/4

2.5/4

1.5/4

3/4

1/4

2.5/4

3/4

2.5/4

2/4

2/4

Next 25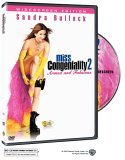 Miss Congeniality 2: Armed and Fabulous
Armed, but not real fabulous
2.5/4 stars
FBI Agent "Gracie Hart" (Sandra Bullock) has been in the limelight after saving a beauty pageant winner's (Heather Burns) life. Now, she has been asked by her Chief (Ernie Hudson) to become the spokesperson of the FBI instead of putting her on a desk job to keep her away from the public that recognizes her every where -- including while on a case.

As part of her new entourage, she is given a very openly gay image consultant (Diedrich Bader) and "Sam Fuller" (Regina King), a fellow agent who has appeared on television "Hart" known for having a serious attitude problem.

The two agents do not get along, and now have got to reluctantly join forces to save the lives of the beauty queen and the pageant's emcee (William Shatner) after the two are kidnapped.

Bullock and King are one of the few things that makes this movie worth viewing once -- and only once. They were really well together and their performances show it. At a lesser degree, Bader did a decent job, but didn't really have much to work with.

The two worst performances were those of Burns and Shatner. Both characters were just too one-dimensional in my opinion and were horribly written. I didn't really care if the agents would save them or not, and wouldn't have minded if the kidnappers shot him.

None of the other supporting characters are worth mentioning in my opinion. None of them were given much to work with.

The movie also had a few plot holes that may have helped the movie a little bit if certain things were better explained. The movie also relies on seeing the first film to know the backstory on the characters we rejoin in this film.

Being that the main characters are FBI agents, there should have been more gunplay. This is not the case though. And, despite there being only one pretty good fistfight, the action was kept to a minimum.

This comedy may have worked better if I've seen the first film. It is however, fairly good. However, I can't really recommend that this is one to put on your "Must See" list.