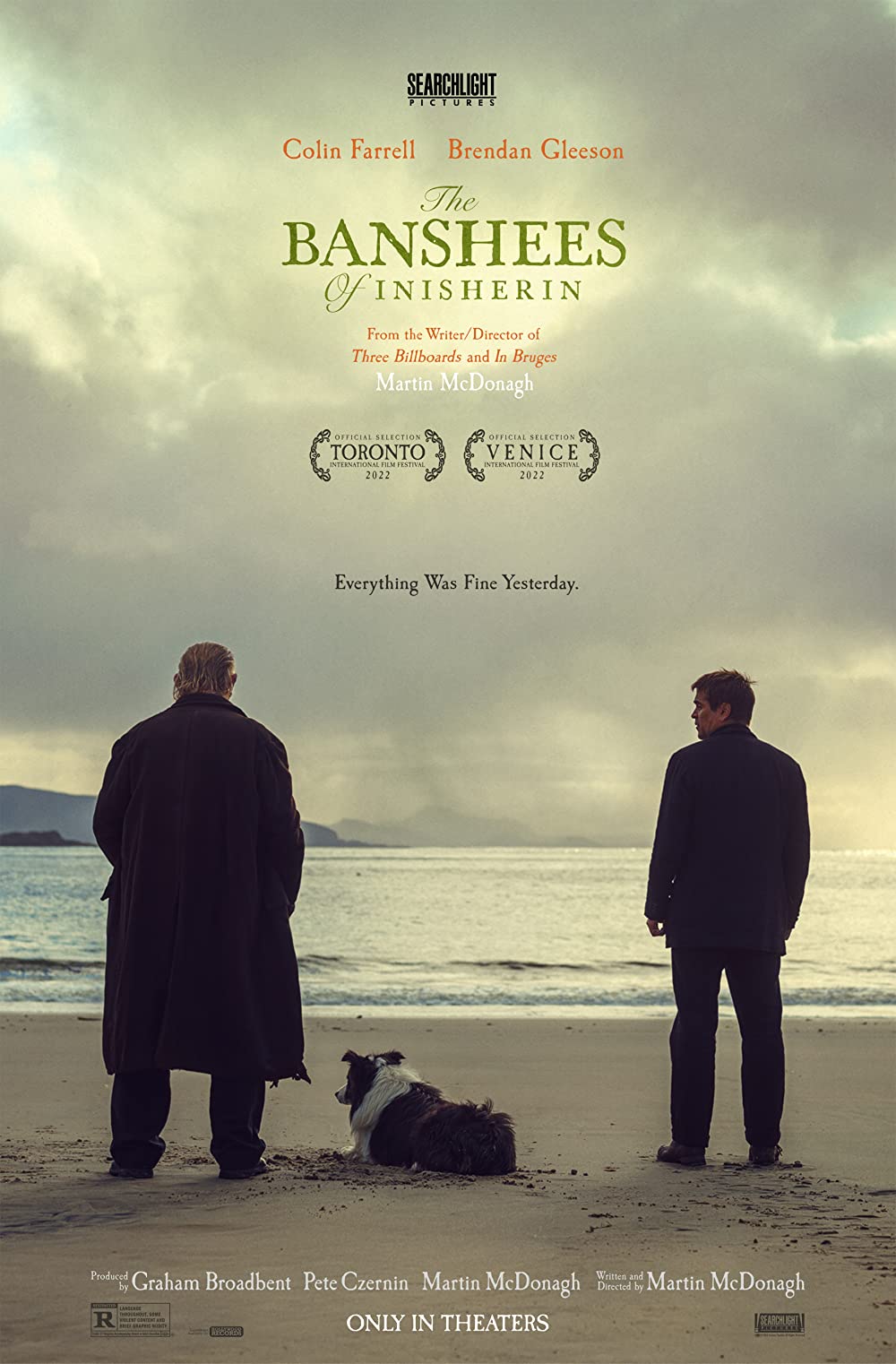 The Banshees of Inisherin
I mean, everything was fine yesterday.
Matthew Brady - wrote on 11/09/22
"I do worry sometimes I might just be entertaining myself while staving off the inevitable."

The Banshees of Inisherin is one of the saddest breakup movies since Marriage Story. Well...in the film, they are not a romantic couple, but Padraic (Colin Farrell) and Colm (Brendan Gleeson) were good friends, until one day their friendship ends abruptly, just because Colm decides that despite there being no bad blood between them, he does not like him anymore. The reason is: you are dull. In some ways, friendships are like relationships; it starts with the strong bonds you form with each other until that feeling towards them is not the same, and you no longer like/love them anymore.

A strange occurrence that is not explainable but does happen. I believe it starts when one person changes while the other doesn't. In the movie, Colm is a wise and articulated older man with an artistic ambition that he never acted on and never stopped to think about getting older. Living on a small remote island off the west coast of Ireland, where everybody is freaking boring and gossiping little bitches who love to stick their noses in other people's business and drama, because there is nothing else to do on the island. The movie does a fantastic job of giving you the impression that living on this rock slowly kills you on the inside. While being a supporting character, this is the dilemma with Colm. He does the same thing every day with his ex-friend, going to the pub at two pm and talking endlessly about meaningless crap and nonsense, and who knows what else happens the rest of the day, which is not that interesting, I assume.

The end of their friendship is hard to watch because it leaves the audience with everlasting pain. Brendan Gleeson is remarkable as the desperate and often cold Colm.

Despite what film Twitter tries to tell you, Martin McDonagh has yet to make a bad movie. In the same vein as Martin Scorsese and Quentin Tarantino, whenever McDonagh makes a new movie, I am 100% there. Every movie this guy has made has been brilliant, and Banshees is no different. A dark comedy at its finest cause you know when things go so wrong to the point it gets funny. Well, Martin McDonagh's movies are like that.

The writing is superb and has plenty of dry humour. The film-making is not anything grand or flashy; some comment on how stagy it is, but I do not feel it needs to be a technical marvel. With that said, there are some beautiful shots of the landscape of Ireland.

Comparing his work in The Batman early this year and this movie proves that Colin Farrell is one of the finest working actors. His character Pádraic Súilleabháin is a dim-minded, polite man who, unlike Colm, has found peace and happiness in his daily life. Farrell brings a child-like vulnerability to the character, where everything he does or says can be funny and depressing. His character arc is incredibly heart-rending.

Pádraic sister, played by Kerry Cordon, another standout performance, and some of her line delivery has implanted itself in my head. Her character Siobhan is trying to find the ultimate purpose in her life, echoing the problems that Colm is facing, which the two get along like a house on fire.

Barry Keoghan plays Dominic, and out of all the characters in the story, he lives the worst life under his abusive father. Keoghan continues to be an excellent actor who is on a winning streak. The character of Dominic is a playful and childish man, but the tragedy of the character is that he is lost in this life and has nowhere to call home, often appearing at the most random of places during odd times.

The score from Carter Burwell immerses you in this story and contributes to the stunning visuals.

Overall rating: On paper, a simple concept of a friendship breaking up, but its approach to mental illness, kindness, art, masculinity, and our inevitable death was strikingly profound. At times, it felt like Shakespeare mixed with the Brothers Grim tale.

It is one of the best movies of 2022.