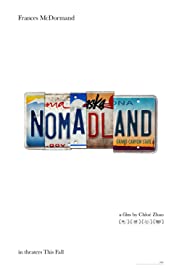 Nomadland
"We be the bitches of the badlands."
Matthew Brady - wrote on 01/25/21
'Nomadland' is one of those movies where nothing much happens, but it's the type of movie you sit back and vibe with it.

This is a very attentive movie, where you journey along with this woman (played by Frances McDormand) who is fed up with her old life and decides to go off grid by traveling to different places while living in her van. She's not homeless, just houseless. She is like a leaf that quietly and casually drifts from location to location. She encounters different people in this community, who are played by real nomads. Throughout the whole movie you are never in one place for too long, you just keep moving on.

I'll give director Chloé Zhao and cinematographer Joshua James Richards major credit for they approach to a story like this. Zhao decision to include real nomads with their actual names in the movie as these characters made the story feel genuine and personal, which helps gives us a solid perspective on what life of a nomad is like but done in a respectful way that doesn't intrude their lives. The cinematography from Joshua James Richards looks beautiful and does a great job showing off the Western landscape. Some locations can look so cold, and yet, other locations look so tranquil in the sunlight.

This movie is worth checking out just for Frances McDormand performance alone, as she is terrific in this movie. She plays Fern, an adventurous woman who is a child at heart, despite dealing with some personal issues from the inside that we are informed about briefly.

Also, I thought the real nomads were surprisingly good. I'm not sure if all the scenes with them are scripted or not, but either way I thought they were great.

While there's a lot of things that I enjoyed and appreciated about this movie, but unfortunately it didn't 100% connect with me on a emotional level. At first, I liked the whole open road freedom to the movie, because since the main character is never in one place, you too become a wanderer, but I also feel it misses the opportunity of a powerful character study, especially with a character like Fern when it's clear that there's more underneath the surface with her.

I found the pacing of the movie to be an issue for me, because with a two-hour runtime I would sometimes find myself losing interest in the characters and what was happening on screen, as the movie didn't further develop or do anything with the content and ideas it presents.

While the music was appropriately used for certain scenes, but most of the time it felt really distracting and took me out of the scenes.

Overall rating: Again, there's a lot of things that I appreciated about the movie and am interested in what Chloé Zhao has up her sleeves for Marvel's 'Eternals', which I hope gives her the freedom to make whatever she wants in the late future, with the extra cash and name recognition.