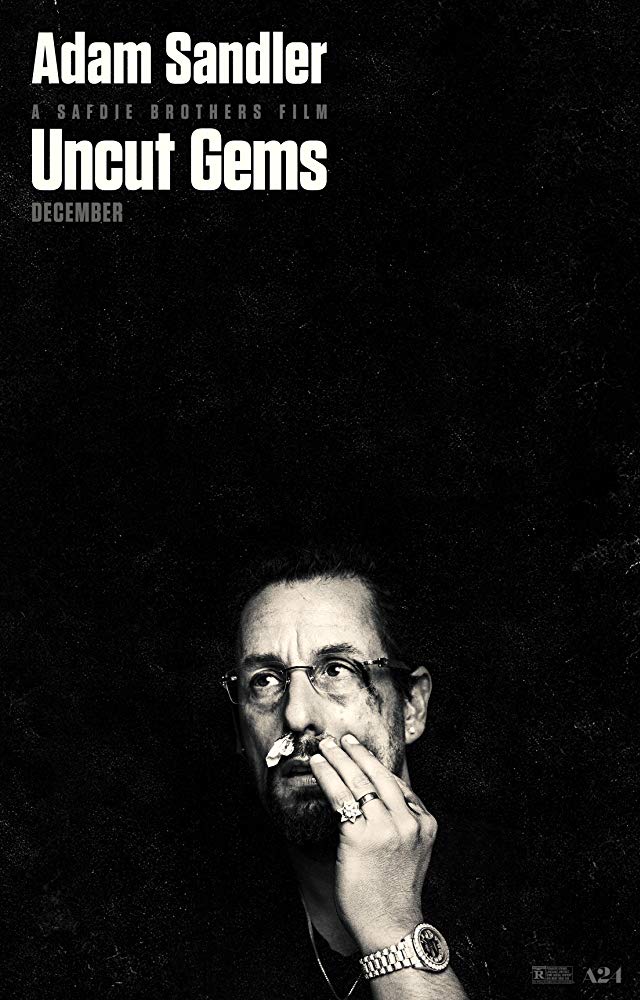 Uncut Gems
Uncut Gems - Review
Matthew Brady - wrote on 12/30/19
"This is how *I* win."

One of the most stressful movie experiences I've had in awhile.

This whole movie runs entirely on acid and how the series of events unfold was particularly stressful. People constantly talking or yelling over each other while the brilliant sound work made the space around them feel so tight, but incredibly claustrophobic.

While I like 'Good Time' a little more, but man what a rush.

Adam Sandler is absolutely terrific as the greedy and sleazy Howard Ratner. If he's working with a good director, a strong supporting cast, and an interesting concept, Sandler will thrive. We follow Howard Ratner, a jewelry store owner in New York with a serious gambling problem that makes the hole his standing in deeper and deeper. Despite every terrible decision his character made...I still felt sorry for him. I think it has to do with Sandler's devilish charm that won me over into pitting such a petty crook. He isn't a loser, he's a winner who doesn't win. It's one of his best performance right beside 'Punch Drunk Love'.

Benny and Josh Safdie are such vibrant directors that can inject so much style while also having a harsh look to it, which ties in with the slimy side of business. The Safdie Brothers are building a solid career for themselves. Darius Khondji outstanding cinematography is the glue that holds this high tension of a movie together.

I loved the score from Daniel Lopatin, which will often drown out the dialogue as the retro rift comes blasting through. On the other hand, there's also a slow mystical vibe that Lopatin composes that gave me a surreal feeling of levitating.

Kevin Garnett is surprisingly really good in this movie. A professional basketball player actually delivering a solid performance is almost unheard of. It kinda reminds me of Tyler Perry 'Gone Girl', in terms of your expectations from them vs what you got. I also couldn't believe this is Julia Fox first acting debut, because she's fantastic in the movie.

Overall rating: While I'm only two movies into their filmography, Safdie Brothers are upon my favorite working directors.

I hope they make another movie like 'Good Time' & 'Uncut Gems', so it can called the LSD trilogy.