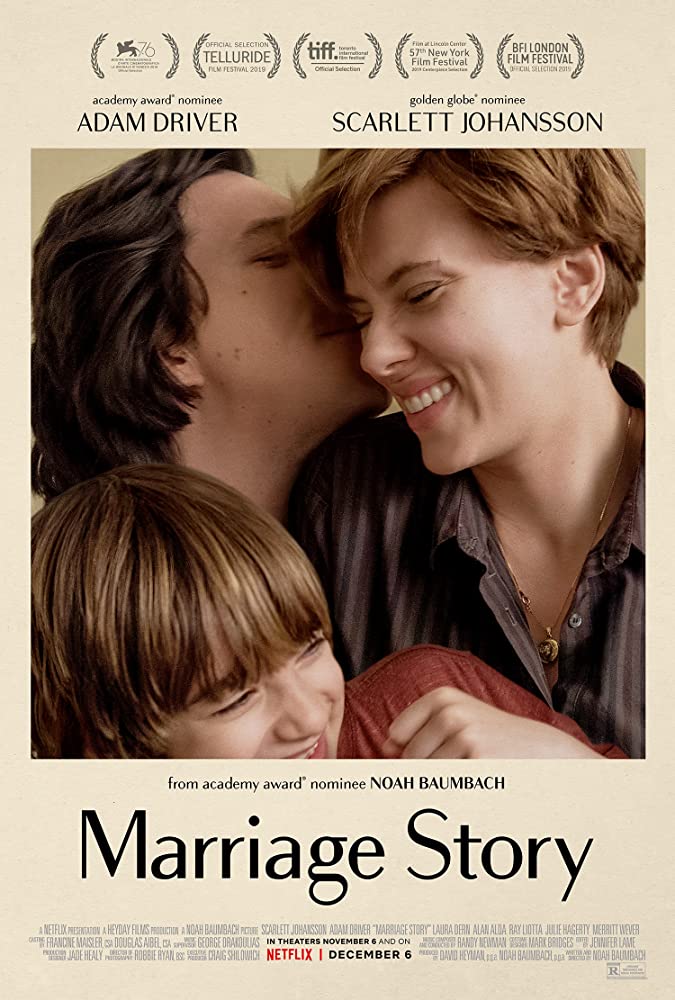 Marriage Story (2019)
LIFF33 2019 #1
Matthew Brady - wrote on 11/14/19
"I never really came alive for myself; I was only feeding his aliveness."

I've said some harsh things about Netflix movies in the past, but recently I'm starting to warm up to them.

'Marriage Story' was absolutely excellent. A devastating portrayal of divorce that can bring out the ugly in people, especially with child custody. But it's not all doom and gloom. It's incredibly heartfelt with plenty of humorous moments. I guess you have to find the comedy during the difficulties in life. Lets just say my cheeks wasn't dry afterwards.

And yes, I wept.

Adam Driver and Scarlett Johansson both gave masterclass performances. And I do mean some power house acting. Driver plays Charlie, a competitive and undaunted theater director that he is very clear about what he wants. Johansson plays Nicole, a mother who's a delightful presence and loves to play, but is also a dedicated actor. This is the best I've seen from Johnasson. Her character delivers a monologue where she's explains the issues in her life that's all shot in one take, which brilliantly displays her acting chops where she naturally shifts from emotion to emotion - it was impeccable.

The supporting cast were all fantastic. Lauren Dern, Ray Liotta, Merritt Wever, Julie Hagerty, and Alan Alda were all brilliant and really bounce off the energy from Driver and Johansson. Even the child actor held his own between these juggernauts of actors.

Not only are the performances the strongest element of the movie, but so is the writing. Every character is so uniquely fleshed out that the conflict feels so incredibly raw. It's one of the reasons why I was so glued to the movie from start to finish. One of the best screenplays of the year.

This is the first Noah Baumbach movie I've seen from him and I am aware of his other work, just haven't got around to watching them. However, I feel like this was the best introduction to him as a director, because he crafted such a sympathetic look on marriage dissolving away. We don't see the full relationship, but we do get to hear Nicole and Charlie individually describe what their love about each other, while there's a montage that flash's through their routine life together with their son. Nothing visually striking in the presentation, but not once did it feel stale.

The score from Randy Newman was terrific and fitted wonderfully with the movie. I loved the aspect ratio as it added a lot to the overall mood of the movie. When the two go head to head in the custody battle - that doesn't mean they're enemies. They still talk to each other as if they are still a thing. It's also hard to pick aside, because you understand where each of them are coming from, and even if you do choose, you still feel bad for either one.

Overall rating: Any other relationship movie aint sh*t compared to this.