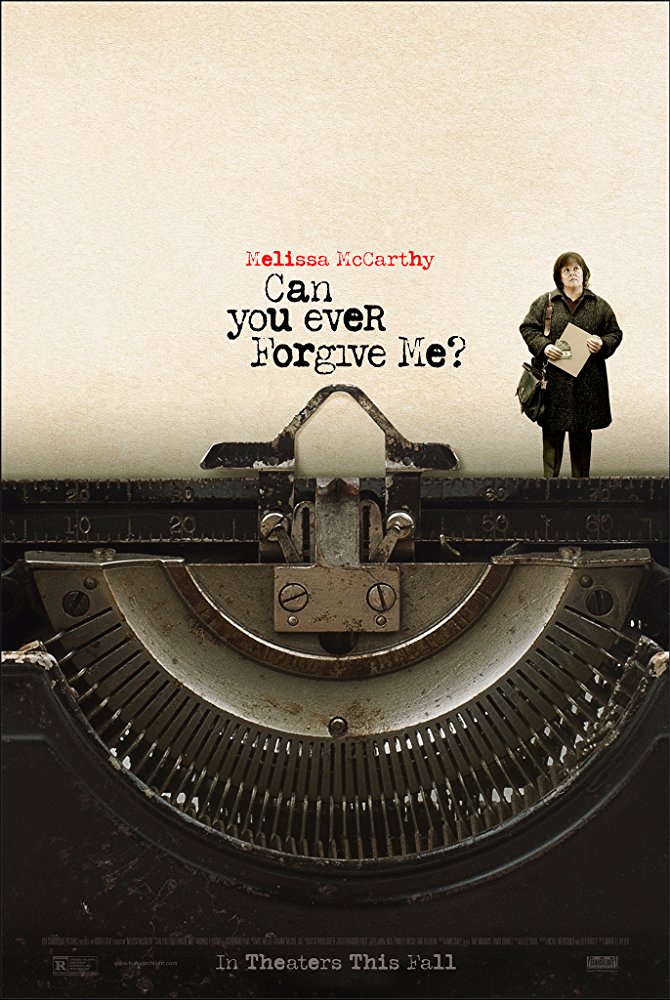 Can You Ever Forgive Me?
LIFF32 (2018) #4
Matthew Brady - wrote on 11/21/18
I like the part where she falls over.

OK, on a serious note...

'Can You Ever Forgive Me?' is a compelling true story that's both hilarious yet heartbreaking. The biggest giveaway I got when the movie ended - you can find the irony and humor in the darkest of outcomes.

I'm not the biggest fan of Melissa McCarthy, if I have to be honest. I don't find her funny and 'Happytime Murders' left a cold impression on me. Ironically, I wanted some sort of apology after that. Still, nothing against her personal just not my cup of tea. However, I'm thrilled to see McCarthy showcase her acting chops while bringing her comedic roots into the mix. She breathes life into a struggling writer, Lee Israel. Whenever she's drinking alcohol in the afternoon, stealing toilet roll, living in a filthy apartment, and committing a crime that made her famous. I hope she considers more dramatic roles in the future.

Richard E. Grant, on the other hand, is absolutely hysterical as Jack Hock, Lee's best friend. Grant has been in some many movies and TV show that you don't have to remember his name to recognize him. It's satisfying to see credit where credit is due. Providing hearty laughs and emotional depth. Both Grant and McCarthy are utterly delightful together.

Marielle Heller directing isn't anything special, but she takes a true story (dramatize or not), and made it personal despite following criminal activity. I thought her previous movie 'The Diary of a Teenage Girl' was visually interesting to say the least, and I'm looking forward to seeing her take on Fred Rogers with Tom Hanks. Also, the script ties together with sharp humor, which I feel Grant and McCarthy did most of the writing on the spot, mostly McCarthy who is best known for ad-lib.

For problems: The films score is a little pushy, especially in a few scenes when it was played inappropriately. The movie tries to show sympathy towards Lee's actions and crimes is questionable at best. I mean, when reflecting back, she's kind of a terrible person. The movie itself is perfectly fine - the performances and writing is what makes it stand out. Nothing groundbreaking or anything super memorable in a few years time, but that doesn't always mean bad. There's plenty of good things to admire and enjoy.

Overall rating: Will recommend. Forgiveness? Maybe.