3/4

2/4

3.5/4

2.5/4

3/4

1.5/4

3/4

0.5/4

3/4

3/4

4/4

3.5/4

3/4

3/4

3.5/4

3/4

3.5/4

1.5/4

1/4

3/4

2.5/4

1/4

0.5/4

1.5/4

1.5/4

Next 25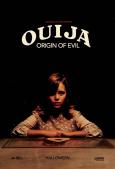 Ouija: Origin of Evil

3/4 stars
Well then, this I didn't expect.

A massive improvement compared to it's previous garbage fire. Nothing that re-invent the horror genre, as it didn't anything new, but still manages to work in it's own favour. Beautifully shot and directed by Mike Flanagan with some genuinely creepy moments that worked better than jump scars. Surprisingly the kid actors weren't terrible and didn't break the movie.

The situation with "Ouija: Origin of Evil", a similar thing happened this year with "Annabelle: Creation". If it doesn't work the first time, try again.