1.5/4

1/4

3/4

2.5/4

1/4

0.5/4

1.5/4

1.5/4

3/4

3.5/4

3/4

1/4

1.5/4

3/4

1/4

1/4

2.5/4

1.5/4

2.5/4

3.5/4

3/4

2/4

3/4

2/4

3/4

Next 25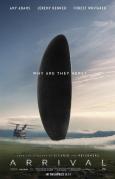 Arrival (2016)
Arrival - Movie Review
3.5/4 stars
Well damn.

I couldn't stop thinking about this one and may not for awhile. "Arrival" is one of the best Sci-Fi films I've seen in this year. Everything about this film was just top notch that I can't put into words without going all over.

So let put it like this:

Amy Adams was wonderful in this. A very grounded and real performance. Probably her best. Same thing that can said about Jeremy Renner.

And how the aliens were part of the story was fascinating and quite clever. Without spoiling anything, they had a unique look to them. Like spiders. Although out the film, you feel their presence. A presence that's both scary and yet remarkable.

Denis Villeneuve is my favorite working director. He can release a movie every year and still be close of making a masterpiece. Villeneuve delivers a haunting and heartbreaking story that leaves the audience with a experience that will stay with them. A beautiful, thought-provoking, Sci-Fi film that isn't an action or war movie. And I'm even more excited to see "Blade Runner 2049".

And how can I forgot the amazing score, astonishing cinematography, intelligent script, and the tearjerker ending that left me in pieces.

I honestly can't say anything else. Please do yourself a favour and watch it. For now, I'm dumbfounded.