3/4

2/4

3.5/4

2.5/4

3/4

1.5/4

3/4

0.5/4

3/4

3/4

4/4

3.5/4

3/4

3/4

3.5/4

3/4

3.5/4

1.5/4

1/4

3/4

2.5/4

1/4

0.5/4

1.5/4

1.5/4

Next 25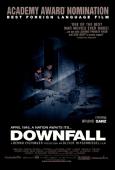 Downfall ( Untergang, Der )
My review of Downfall ( Untergang, Der )
4/4 stars
So this movie didn't win a Oscar for Bruno Ganz spectacular performance or didn't win for best foreign language film, man f**k the Oscars.

The movie is about a group of young women to Wolf's Lair, Hitler's headquarters in Eastern Prussia. They are candidates for the post of personal secretary to the Fuehrer. Among them is 22-year-old Traudl Junge, a fresh-faced girl from Munich. Traudl is chosen for the job and she is overcome with joy at the thought of serving beside her Fuehrer. BERLIN, APRIL 20, 1945: Hitler has retreated to a bunker system under the German Chancellery. Traudl Junge is asleep in her room, deep beneath the ground. She is awakened by tremors from artillery fire. The enemy is getting closer. Charting the last 10 days of Hitler's life, from his 56th birthday on April 20th, 1945 to his suicide on April 30th, the film uses multiple characters to show the chaos of a country coming apart at the seams, from Hitler's henchman under the streets of Berlin, to the soldiers and civilians fighting and dying as the Soviet Army ravaged the city above.

You know that video on YouTube "Hitler reactions to this", and a lot of people may not know where that scene came from and it's this movie when it's during Hitler couple of minute rant and putting those reaction videos to the side this is a great scene if you can get pass that. I thought about bringing that up just in cause you didn't know.

I what to start off this review by saying that Bruno Ganz gives one of the best performance of 2004 and probably my favorite performance of all time. Bruno Ganz got Hitler spot on and he delivered a masterpiece of acting. What Bruno Ganz did so well is add a little human to Hitler as you can see his struggle and I know we what to see him fail because his a horrible person but as horrible as he his he's struggle to win a battle that he started and it quickly going down hill slowly breaks him, at one point you slowly see him losing it and Bruno Ganz powerful performance that creates are powerful moment that we can feel a little bit of it. Amazing performance Bruno Ganz.

The directing in this movie is what works the best as the director shows every detail of Hitler's upcoming fate. I forgive Oliver Hirschbiegel for directing the epic fail that was Diana the film as he made a better historical drama.

For problems with the movie these not a lot to be honest, you can say it's kind of a snail paste at times with the pasting but that's really it for problems.

Overall DownFall is excellent movie with amazing acting, great writing and directing and a brilliant historical drama.