3.5/4

2.5/4

3/4

1.5/4

3/4

0.5/4

3/4

3/4

4/4

3.5/4

3/4

3/4

3.5/4

3/4

3.5/4

1.5/4

1/4

3/4

2.5/4

1/4

0.5/4

1.5/4

1.5/4

3/4

3.5/4

Next 25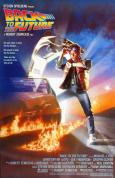 Back to the Future

4/4 stars
Dr. Emmett Brown: "If my calculations are correct, when this baby hits 88 miles per hour... you're gonna see some serious shit".

Marty Mcfly's loony friend, Doc Brown, invents a time machine in which Marty is accidentally sent back to 1955, the same year his parents meet.

Back to the Future is one of the greatest movies ever made. The movie is hilarious, it's directed magnificently by Robert Zemeckis and the chemistry between Marty and Doc well just perfect.