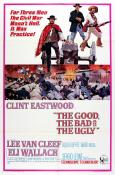 Good, the Bad and the Ugly, The ( buono, il brutto, il cattivo, Il )
The Good, The Bad, And The Ugly review
4/4 stars
Brilliant, brutal, exciting, haunting. These are a few words that describe Sergio Leone's 1966 masterpiece. This film is without a doubt, unquestionably, and undeniably one of the finest achievements by a director in the history of not only the western genre, but all cinema as well. Characterized by it's long takes, gorgeous landscapes, interesting characters and faces, a brilliant score by ennio morricone, and an unforgettable performance from the great Eli Wallach (The Ugly). The good, the bad, and the ugly is perhaps one of the greatest final installments to a trilogy in the history of trilogies. The Cemetery scene alone will have you in tears out of just pure brilliance and style. The ending will have you angry! Excited! Exhilarated! All at the same time! At 2 hours and 58 minutes this ode to the true ugliness of the old west has had a lasting impact on the world of cinema and fans alike. And cementing the legacy of the great il maestro Sergio Leone!