2/4

3.5/4

3.5/4

4/4

2.5/4

2/4

2/4

1.5/4

1.5/4

4/4

2/4

2/4

2.5/4

3/4

0.5/4

1/4

3.5/4

3.5/4

4/4

2/4

3/4

3/4

4/4

3/4

4/4

Next 25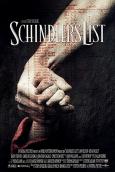 Schindler's List
A shocking biopic.
4/4 stars
We see a Polish town, a wide shot in a street. Soldiers run up and down, tearing children away from their parents, executing resisting inhabitants and vandalizing the buildings.
Suddenly, a little girl comes out of one of the buildings and starts wandering down the road lined with mayhem.
She is wearing a red coat.
The film isn't in color. But we see the color of her coat.

Schindler's List is a movie that I find hard to call a movie. Usually, movies are fun and uplifting, made for entertainment. But once in a while comes along a film that is more than entertainment. It is heartbreaking filmmaking.
Schindler's List is more an odyssey than a movie. It is the truth. A part of history, telling the story of a Nazi who took pity on the Jews and helped them, because no matter what anyone had against them, they were persons. Just as he was a person.

As difficult as it is to watch, Schindler's List is a true biopic and documentation of one of the most horrible events in our history.
I find it hard to judge anything about this movie. First of all, because of the topic at hand, and second of all, because there really isn't anything wrong with it.
The performances feel raw and authentic. I can't believe Liam Neeson and Ralph Fiennes got cheated out of their Oscars. Even if they were partly fictionalized, the performances brought the right characteristics and attitudes to the real life personas portrayed.
Oskar Schindler was good-hearted and open-minded. Neeson displayed this.
Amon Göth was short-sighted and brutal. Fiennes displayed this.
So why not let them garner what they deserve?

It's very careful with the way it decides to show you things.
We never get forced emotion. It's hard not to get emotional over some of these extremely violent and sadly true war scenes, but this movie just showed you what happened. You were put into the position of the victims and perpetrators of this worldwide massacre. We are even put into the shoes of a red-coated little girl, walking through a Jew-populated town as it is stormed by troops. This perspective may be the most important of the whole film. Because it shows you the young innocence that was taken during this time. It showed the brutality and selfishness of a man who convinced Germany that Jews needed to be rid of the world.
Schindler did only what he was told, until he saw the innocence for himself. The red color of the girl's coat. The only color in the entire film.
And still, the film is not a dramatization. It just uses clever points like the color red to help express its content more delicately.

Steven Spielberg was smart with the way he chose to construct this film and the basis on which he was stabilizing his movie.
The simplicity in Spielberg's direction is very fitting for this film. He understood that it was better just to capture an ordinary shot than inserting a camera trick of some sort. He is very direct and some of the things he chooses to film are shocking, such as the incineration of the Jews and executions.

One shot in particular stayed with me for the entire film.
A German soldier is playing the piano passionately in an empty room, while we hear gunfire and see recurring muzzle flashes in the background of the doorway.

It ranges from the brutal to the heartwarming. It tells the unaltered story of one man who saved Jews because they were people and deserved equal treatment by society.

It may be hard to watch, but it is the truth. Isn't that what everyone expects?