2/4

3.5/4

0.5/4

1.5/4

1/4

1.5/4

1.5/4

4/4

2.5/4

1/4

3.5/4

4/4

0.5/4

0.5/4

0.5/4

2.5/4

1/4

2.5/4

0.5/4

4/4

3.5/4

2/4

2.5/4

3.5/4

3.5/4

Next 25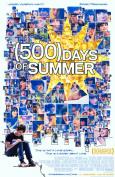 (500) Days of Summer
A Stylish, Realistic Charmer*
3.5/4 stars
This film floated into my life at just the right time.

Movies are magic like that. You could be going through a certain something and suddenly find yourself viewing a story strikingly similar to the story you're currently living.. And you feel that spark that has you cackling at certain scenes until you're clapping, and/or tearing up at other moments (as much as you try to hide it.)

Of course, as "touched" as I was by it, I am aware that this type of connection had to be felt by a countless amount of folks when THEY first saw it.

For me it was spot on.

My sappiness aside, this is a cleverly crafted film. Everything including the editing, soundtrack (You just can't go wrong with The Smiths) color scheme, wardrobe, set design - every detail was well thought out and contributed to the simple, quirky charm of the story.

Hints of "music video" flash here and there, but it fits in just fine and may even help in the unfolding..

I did adore the characters, I even found myself invested! And though it may be true that the "lovesick" may feel a little more for them, there is no denying the performances and the excellent writing involved in shaping them and giving them depth.

This is a snappy, stylish way to tell a realistic "love story", and it certainly won me over.