2/4

3.5/4

3/4

3/4

3.5/4

2/4

1.5/4

3.5/4

2.5/4

2.5/4

4/4

2.5/4

4/4

2/4

4/4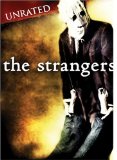 Strangers, The (2008)
The Stranger showcases cliche horror
2/4 stars
The quality of the horror genre this decade has been mediocre at best. Their have been some dreadful films like When A Stranger Calls and some really terrific horrors like The Descent. With other films like Saw and Hostel representing the mediocrity horror for this decade, my expectations for The Strangers were relatively low. For the first twenty minutes or so, I was on the edge of my seat as director Bryan Bertino built a suspense driven atmosphere with unbearable tension. As for the latter half, The Strangers disappointingly spirals downward into mediocre territory, ultimately becoming a traditional mad slasher film.

Liv Tyler and Scott Speedman star as a couple who's relationship has just hit rock bottom when taking a trip to an isolated vacation home. The two are distant and surround themselves with awkward emotions because Kristen (Tyler) had just answered "no" to James' (Speedman) marriage proposal. Things suddenly start to go wrong as the young couple find themselves being terrorized by three strangers wearing masks. As you can see, the plot is rather thin here. Basically this is a 85 minute chase film that wears out its welcome at the halfway point. It strictly follows a traditional slasher film, and steadily declines into a torture film towards its poor conclusion.

Bertino's film does have some scares and suspenseful moments though. The first twenty minutes are mostly very silent, adding to the tension of that inevitable moment where the baddies pop out. This, however, is when the film starts to sink to the bottom. I pretty much guessed each scene correctly before it unfolded on screen. This exposes Bertino's inexperience in storytelling, relying too heavily on predictable scares and cardboard behavior by his lead characters. The baddies here are extremely boring and dull. We never really find the motive in these villains as to why they're terrorizing this couple. At least in a slasher film like Carpenter's Halloween or Clark's Black Christmas we get a little slice as to why the antagonist does what he does. However, the performances are solid, with Tyler's highlighting a pleasant surprise being that I'm not a huge fan of her work (Armageddon).

Moreover, the lead characters surprisingly are effectively built in the beginning of the film, but development halts as soon as the villains appear. Bertino lacks the trait that great horror filmmakers posses, in which is building characters as they face the eyes of adversity. This was well done in a British horror film titled The Descent, one of my favorite gems of the decade. As soon as characters start doing stupid things for no reason, or during a film's halfway mark you don't really know a lead character well, you know you have a mediocre horror at hand. Bertino should have stretched his characterizations lasting till the films conclusion but rather options to put the big STOP sign up in quality storytelling and presents us with a slasher film that borrows a lot from 70's and 80's horror.

Despite the overwhelmingly negatives put forth, the film looks really terrific. You can tell The Strangers was put together well and that Bertino fought tooth and nail to get his production done correctly and effectively. Some of the cinematography was well done, adding to the twenty minutes of actual suspense surrounding the film's atmosphere. But overall, The Strangers is a long list of disappointments that have embodied the genre of horror this decade. Even though Bertino's film looked promising for the first segment or so, the latter half sttinks deep into the depths of cliche horror film-making.