4/4

3.5/4

3.5/4

3.5/4

3.5/4

2.5/4

4/4

3.5/4

2.5/4

2/4

3.5/4

1.5/4

4/4

3/4

3/4

2/4

2.5/4

2/4

2.5/4

4/4

4/4

3/4

4/4

2.5/4

2.5/4

Next 25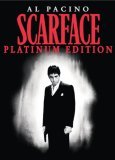 Scarface (1983)
A Detriment to the Crime Thriller
1/4 stars
This will probably be my most disagreed with review on the site, but I don't care. This movie was horrible. I couldn't stand it. Truly can't believe the attention this movie got. Al Pacino was horrible in this movie. I think everybody involved in the movie got to far into the roles by blowing so much coke and producing this garbage....... with that said I will tell you why I hate it.

This movie is comical at best. All characters are caricature-like, I felt like this was a parody movie on gangster movies. Al Pacino ate the entire set with the most over-acting I have ever seen performed on such a highly acclaimed movie. The movie has no brain or depth. It is 3-hours of cliche' scenes and quotes for wanna-be thugs to quote and idolize. The final scene is not good. It is not. I felt like I was watching a high school play with cheap cardboard scenery and an overacting senior trying to get a drama scholarship to his local community college.
I know there are few that agree with me, but I honestly could not stand this painful detriment to Crime Thrillers/Dramas.