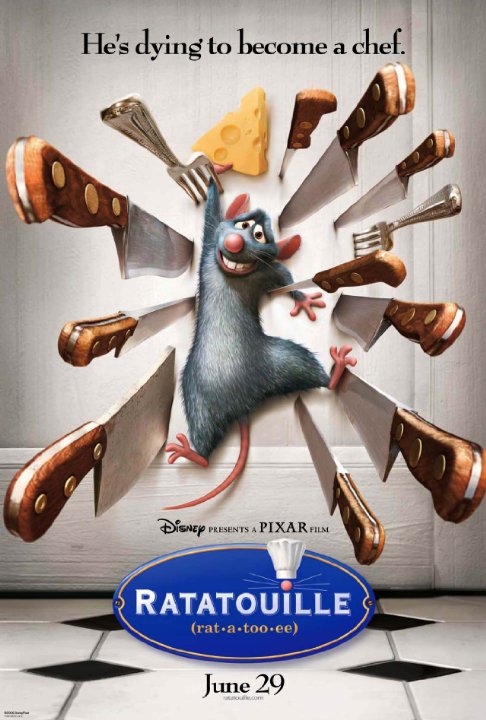 Ratatouille
Surpirsingly good!!
Lee - wrote on 01/21/13
Although trying to sit thorugh this twice already and not making it, let's just say three times a charm? Finally sat down and watched this with my kids start to finish and it wasn't too bad of a family film expecially for those who love the art of cooking. With the backdrop being in gay ole Paris France, no we don't get the beauty part of the scenic area, we get instead the grunge of the sewers as our main hero in this story is none other then a city rat named Remy who has been born with the gift of cooking fine cuisine.

The only problem with him living out his tiny dream is no one in Paris or anywhere else on the globe are ready to accept a nasty street rat into their kitchens. Upon stumbling upon the best in restaurants that Paris has to offer in the form of Gusteau's Remy sneaks in for a peek and notices a bumbling garbage boy named Alfredo Linguini who is stumbling around the kitchen making a mess and even destroying Gusteau's world famous soup in the process. Remy sneaks up and adds a bit of this and a bit of that to make the save. Before getting relieved of his position, the restaurant's only female chef Colette speaks to the mean lil head chef and alfredo is rehired back.

Now we have a rat that can cook and a human that cant, so Remy comes up with the idea of hiding in Alfredo's hat and operating Alfredo's body like a marionette whilst pulling his hair all along making it look like he is actually the one doing the cooking.

The rest of the film has both Alfredo and Linguini both trying their best to hide their secret as Remy hides atop Alfredo as his cooking brings on a new fame.

Overall a good film for the family that may inspire the chef hidden inside all of us.