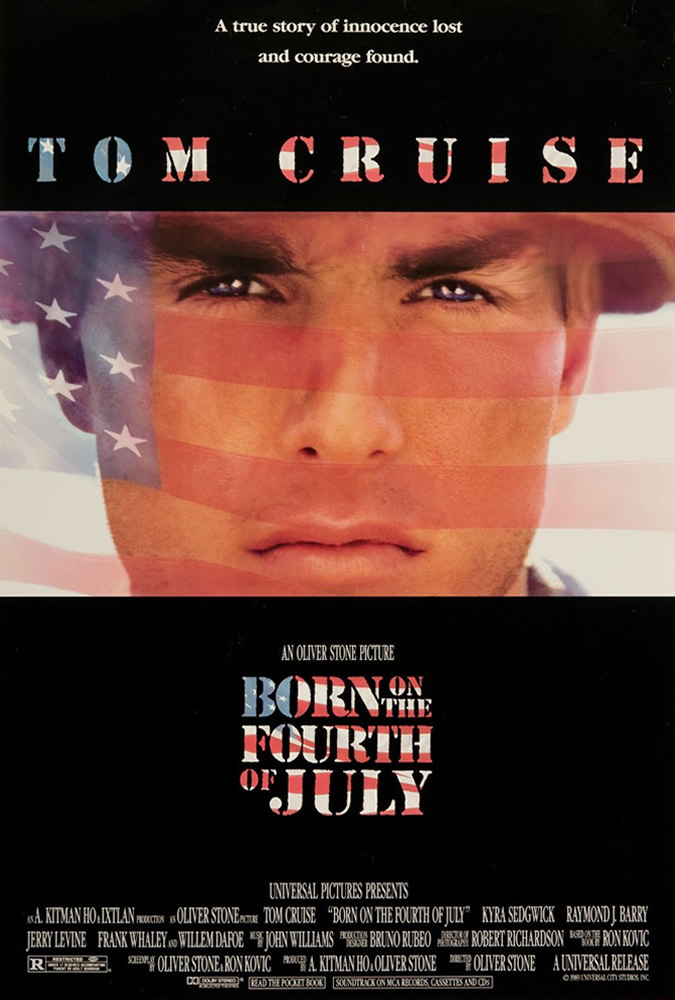 Born on the Fourth of July
Devastating
Andrew - wrote on 05/29/12
Born on the Fourth of July is unique as Vietnam film as it is more focused on the lives of men who fought in it, but before and after the war. It is not a film about combat as much as it is a film about the lasting effects of combat. Regardless, Born on the Fourth of July is as emotional as any of the Vietnam films and provides a thorough portrait of an American hero, Ron Kovic.

Born on the Fourth of July is about Ron Kovic (Cruise), a patriotic and idealistic young man who enlists in the Marines during the Vietnam War in order to fight the spread of communism and serve his country. He finds himself on the front lines in Vietnam, where he is eventually wounded, but not after accidentally killing a fellow Marine. Kovic is paralyzed from the chest down after his horrific injury. The rest of the film is concerned with his personal struggles after the war, as he battles with his paralysis and struggles to comprehend the reasons behind the war.

Tom Cruise gives a powerhouse performance as Kovic as he goes through the emotional trauma of combat and the aftermath of his paralysis. The viewer sees a great shift in Kovic throughout the film and Cruise does not miss a beat. The rest of the cast is rather ordinary, but Cruise gives arguably the best performance of his career.

As for its subject material, it is interesting to note that the real Ron Kovic co-wrote the screenplay with Oliver Stone, a smart move in my opinion. The story is simply devastating. Kovic suffers from such great hardship, but shows true perseverance to carry on and tell his story. Obviously, this film is anti-war, but it projects its views without insulting the men who fought in Vietnam, not surprising considering its writers. It considers the morality of the war and shows the shameful suppression of anti-war sentiment within the United States. Shame is recurring theme throughout, the shameful lies of the government to mislead the public, the shameful treatment of veterans after returning home (especially in the hospital scenes) and the shame that over 50,000 men had to die in fighting a war 13,000 miles away.

Born on the Fourth of July is simply devastating and a great motion picture that must be seen.