3.5/4

3/4

3.5/4

1.5/4

2.5/4

3.5/4

2.5/4

3/4

2/4

3.5/4

3.5/4

2.5/4

1.5/4

0.5/4

3.5/4

4/4

2.5/4

1.5/4

3/4

3/4

3/4

1/4

3.5/4

3/4

3/4

Next 25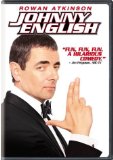 Johnny English
One of the Worst Kids' Films in Recent Memory
0.5/4 stars
If I didn't feel like ruthlessly tearing this film apart at the moment, I could simply copy and paste the majority of my review of Shawn Levy's The Pink Panther, as many of my points in that review apply to Johnny English (not to mention that both films are nearly identical). And yet, Johnny English is even worse, and while at least the Pink Panther provided a meager handful of infrequent chuckles, Johnny English has little to no working gags. Once again, I am disgusted by the low standards of live action children's cinema- that is, if I dare to refer to this inexcusably terrible piece of formulaic tripe as cinema.

There's hardly any plot in Johnny English. The majority of the film is made up of loosely related action/comedy scenarios that are neither exciting, nor comedic. The bare bones plot of the film is that Johnny English- by account of an absurdly violent incident at the beginning of the film resulting in the death of every other agent in the country- is the only living secret agent in England, and therefore, the only person that can uncover the secret behind some stolen jewels. Teamed with his partner, Angus Bough (who contradicts the film's previous statement that all of the other agents have died), they must uncover the missing jewels, as well as stop an evil "genius" from becoming king.

Johnny English has almost nothing that will appeal to anyone over the age of 9 (and I am sorry to insult those 1-9 year-olds in this manner). All the children's film cliches are here, including poop jokes, silly dancing, a bumbling main character, and dozens of other unfortunate elements.

The humor is also subject to not one, but two shots of a man's bare bottom (one of which is an extended bit), and an alarmingly raunchy scene of innuendo that struck me as completely out of place for a PG film. In addition to quite a bit of violence, and a surprising amount of language, I can't imagine what parent would feel comfortable letting their kids watch this.

And yet, as I stated before, there is nearly nothing here that could possibly be enjoyable to anyone whose age is in their double digits. At times, Johnny English is downright insulting in it's stupidity, and general laziness.

We've seen everything in this film before in other movies. Just rarely this poorly. Johnny English is also an extremely predictable movie, with gags that can be predicted before they even begin to occur. There's not an original gag in this film, and I struggle to think of any funny one(s).

Rowan Atikson tries hard as Johnny English, but he cannot make the material work, no matter how silly his faces. John Malkovich as the villain, Pascal Sauvage, sports what might be the worst, unintentionally bad French accent I've ever seen in a feature film. Supporting actors like Ben Miller and Natalie Imbruglia are so forgettable and weak in their roles, that they're hardly worth mention.

The only vaguely bright spot about this film is its half-way decent score, composed by Edward Shearmur. Purposefully emphasizing on spy cliches, the score is actually pretty fun at times, if somewhat formulaic.

Unfunny, even vulgar, and an utter failure in almost every respect (not to mention sloppily edited, and poorly shot), Johnny English is one of the worst kids films I've seen in recent memory- an impressive feat. Consistently defying logic, physics, and my tolerance, Johnny English is an aggressively bad film. Other than acknowledge the score again, the best thing I can say about Johnny English is that its only 88 minutes. And yet, that is certainly 88 minutes too long.